---

Subscribe to Community News Feed using your web browser.
---

Subscribe to receive
Community News Updates via
email:

March 28, 2018
Naw-Ruz celebrations held across Ottawa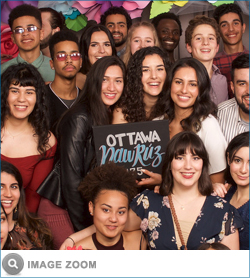 March 21st ushered in the first day of spring, a time when Canadians begin to look forward to warmer weather. The date is significant in many countries, with different ethnic and cultural groups around the world celebrating their new year at the same time as the spring equinox. In addition, for the world-wide Baha'i community, March 21st this year also marked the beginning of a new year - the 175th year of the Badi calendar. For Baha'is, the new year coincides with the completion of a 19-day period of fasting. This is a period in which Baha'is strive for spiritual renewal - a time for reflection, contemplation, mindfulness, prayer and a quest to improve our character. Just as the spring equinox heralds a time of renewal as the snow melts, and the landscape slowly but surely awakens from its winter hibernation, so also, the Baha'i new year represents a time of renewal of the spirit.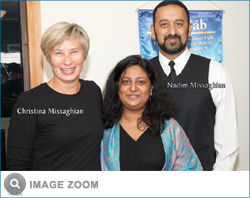 This year, Baha'i families across the city of Ottawa welcomed the new year with much joy and happiness. In the east end community of Orleans, the Missaghian family celebrated Naw-Ruz with a small gathering of friends and neighbours on March 24. "This new year is a particularly special one as it is the first one following the 200th anniversary of the birth of Baha'u'llah", said Nadim Missaghian, who works for Public Services and Procurement Canada.

Nadim, his wife Christina and their two teenage daughters decided to do something special to celebrate Naw-Ruz. In addition to serving coffee, tea and delicious sweets and decorating the house with streamers and balloons, the family setup three conversation stations on the main floor - one in the living room, one in the dining room and one in the kitchen. Each station was marked by a different theme - elimination of all forms of prejudice, progressive revelation and unity in diversity.

more...
---

February 28, 2018
Bahá'í Community Celebrates Ayyám-i-Há!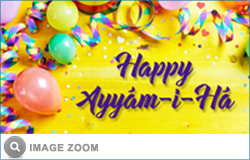 Ayyám-i-Há is a period of hospitality and gift-giving celebrated by Bahá'í communities throughout the world in individual homes and in larger gatherings.

On 25 February 2018, a group of 40 Bahá'ís in the North Nepean area, along with their friends held their annual Ayyám-i-Há celebration at the Nepean Sportplex. Over 40 people of all ages came out to celebrate this year's holiday theme of Singing in the Rain and mother nature certainly obliged by sending a downpour of freezing rain on the same day!

The celebration of Ayyám-i-Há, also known as The Intercalary Days, is a period of 4-5 days at the end of February that fall immediately before the Bahá'í month of Fasting. Bahá'u'lláh said of these days: It behoveth the people of Bahá, throughout these days, to provide good cheer for themselves, their kindred and, beyond them, the poor and needy, and with joy and exultation to hail and glorify their Lord, to sing His praise and magnify His Name; and when they end — these days of giving that precede the season of restraint — let them enter upon the Fast.


The room which hosted the celebration was decorated with cheerful spring-themed cut-outs: frogs, ducks, and umbrellas! The celebration began with a delicious potluck lunch, followed by Readings and Prayers about the significance and meaning of Ayyám-i-Há, the nature of the upcoming Fast and the theme of rain and sunshine in the Bahá'í Writings. more...
---

December 27, 2017
Light of Unity Concert Marks Bicentenary Birth of Bahá'u'lláh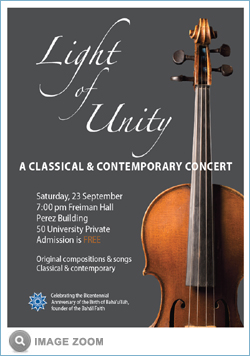 Fiona Armstrong had a strong desire to befittingly commemorate the 200th Anniversary of the Birth of Baha'u'llah. To fulfill this wish, she conceived a plan for a musical gala which would celebrate and pay tribute to Bahá'u'lláh. This wish and plan became the Light of Unity Concert which drew many attendees on Saturday evening September 23, 2017. The concert was held in the Freiman performance hall in the University of Ottawa Music building, a building Fiona was well familiar with, as a recent graduate from the University's music program.

A diverse audience enjoyed an evening, which was stunning in its musical diversity and quality, a worthy gift for Bahá'u'lláh.

The program opened with hostess Vivi Sorensen performing an East Greenlandic drum dance. Melody Rowhani then sang Bahá'í prayers accompanied by the ukelele, a rendition which created a reflective and spiritual atmosphere for subsequent performances. Fiona played cello as part of three very different duos: a lovely classical cello duo by Handel with Natalie Salguero; a beautiful tune composed for the occasion by Fiona and May-Jun Li, who played piano and sang; and two modern pop-based pieces with Tyler Carlson on guitar.


The audience was treated to performance by a number of other highly accomplished musicians. This included Leslie Opatril who performed a soaring flute solo. Valeria Dimitrova presented moving piano solos by Barber and Beethoven. Kevin Burke's rich baritone was accompanied by pianist Ylan Chu in a series of chansons romantiques. A week later, Kevin sang with the Ottawa Symphony Orchestra at the Shenkman Centre. To close the show, Risa Tonita talked about Robert Schumann and read his love letter to Clara (later his wife). She then performed two of Schumann's piano compositions.

more...




---

December 16, 2017
Foster Farm Children's Class celebrates Bicentenary Birth of Baha'u'llah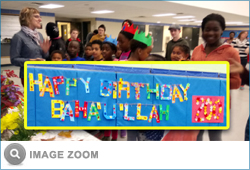 On Saturday, 28 October 2017, almost 40 students, parents, friends and teachers from the Foster Farm Children's Class, came together to celebrate the bicentenary of the birth of Bahá'u'lláh.

The children had been preparing for this celebration for a number of weeks. One week, the children prepared invitations for parents and friends to attend the celebration. Another week, they worked on crowns, inscribing them with Bahá'u'lláh's message: "Attire mine head with the crown of justice, and my temple with the ornament of equity." There was a decorative paper chain created with the attributes: justice, unity, love and peace to name a few written on each link. Over the course of several weeks, work was also undertaken to prepare a large-scale mosaic art piece to mark the 200th anniversary of the Birth of Baha'u'llah. The children worked hard on creating this art piece which used large letters to state "Happy Birthday Bahá'u'lláh".

The program included prayers, songs, readings, games and refreshments (including a birthday cake). Participants from different age-groups, including two babies, enjoyed a joyous afternoon of fellowship.

This celebration was one of over 80 celebrations held across the City of Ottawa during the October/November time period to celebrate the Bicentenary Birth of Baha'u'llah.

The Foster Farm children's class is held weekly, with the objective to inspire in each child a love for our diverse human family as well as to cultivate a praiseworthy character, developing spiritual qualities such as truthfulness, generosity and kindness. Based on the teachings of Baha'u'llah, these classes seek to inspire in the children a love of God and His Prophets, with the intention of assisting the children ultimately to contribute to the well-being of their neighbourhoods.


---

November 2, 2017
Ottawa Baha'is Celebrate 200th Anniversary of the Birth of Baha'u'llah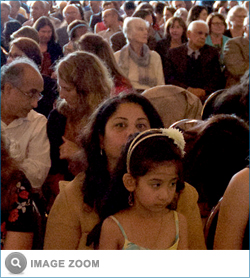 On a glorious Sunday afternoon, 22 October 2017, around 800 Baha'is along with their friends and family, gathered at the Sala San Marco Convention Centre in Ottawa, Ontario to celebrate the Bicentennial anniversary of the Birth of Baha'u'llah, Prophet Founder of the Baha'i Faith. Attendees represented a diversity of cultures and age groups, including many children and youth.

The participants were warmly welcomed by the MCs and acknowledgement was given to the fact that the celebration was taking place on traditional Algonquin territory. The programme began with prayers chanted, sung and spoken in English, French, Persian, Arabic, Spanish and Cantonese, representing some of the many diverse peoples that make up the Ottawa Baha'i community.

The group was then enchanted by songs presented by the 30 member Baha'i children's choir who, in sweet clear voices sang about Baha'u'llah, as the Prince of Peace and the Promised One of All Ages. A joyful rendition of "We are the World" followed, bearing the message that, "there comes a time...when the world must come together as one". Another local musician then performed a rendition of the Dan Seals song "Help us all proclaim the Greatest Name" and another crowd favourite from Fred Ward "In this day, Baha'u'llah..."
Read more...
---