November 1, 2011


It took two days for friends, family and other special guests to honour Della Grace Ratcliffe and celebrate the achievement of her 100th birthday.
Friends and family gathered on the upper floor of the Carleton Lodge on the afternoon of Sunday, June 19th, 2011 to hear stories about Della's eventful life and accomplishments and to be entertained by talented community members who provided musical selections on piano and violin.
Greetings and certificates of recognition sent by the Queen, the Prime Minister, the Governor General, several Members of Parliament, and the Mayor, were presented to Della and pictures were taken for the local newspaper. Among the many certificates received was one from Her Royal Highness Queen Elizabeth the second that included a picture of the Queen on her last visit to Canada.
The Queen and Governor General's certificates both spoke of all that she has seen and done over the course of her 100 years in such a personal way that it sounded as if they knew her and admired her.
Della's story began with her birth on June 20, 1911 in Hamilton Ontario. Her parents, William George Kimpton and Sarah Cutting , named Della in honour of the midwife who delivered her.
Della put her whole heart into living in a spirit of service to others. She spent her childhood as a farm worker, became a factory worker in her teens in the cotton mills, and spent time as a cleaner, and as a caregiver to her best friend.
Despite the loss of sight in her left eye at nine years of age, and having to quit school to care for her ailing mother, Della was a voracious reader, eagerly consuming everything she could get her hands on to read. She had 4 children of her own, and was often known to care for the neighbourhood children as well. According to those who knew her, everyone confided in her and loved her.
Holly Robertson, an Ottawa Bahá'í, shared some memories of her relationship with Della over the years. "She was my mother's friend from the time I was six," stated Holly, "and always was especially close to me. From age nine until I was married," she said.
"My favourite memory of her at 74 was going to pick the kids up from the school bus one day. Our oldest said to her friends, Our Nanny can beat you up the hill (it was quite a steep hill and we were almost at the top). The kids laughed and said She's old! To which Della replied, I'll give you a head start. Della did and won the race, much to the surprise of the kids," Holly recalled.
For many years, Della read everything on the Bahá'í Faith that Holly's sister, Michelle Cooney, could provide for her. During her 92nd year, she awoke one morning and told Holly, "Holly, today I must be a Bahá'í."
Della still exercises daily at the Lodge with the assistance of her walker. She is very sharp in mind and spirit, speaking lovingly to all who will spend a few minutes to sit with her. Della exemplifies the virtues of courtesy, respect, love and humour--those rare qualities of the spirit.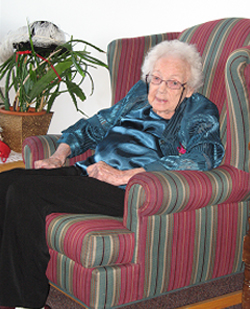 DELLA GRACE RATCLIFFE


(nee Kimpton) on her 100th Birthday, 20 June 2011.
Best friend and other mother to Holly Robertson of Sector 3.