May 18, 2018
ALL ABOARD THE NIGHTINGALE EXPRESS!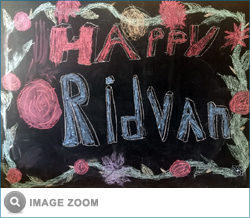 The Ridván period (April 21 to May 2 2018) saw many Baha'i families across the city celebrate this special time in a diversity of ways. The Talisman family which includes parents Brooke and Emad and their 2 children live in the Qualicum neighbourhood in Ottawa. The family created a magical and welcoming event where a small group of 13 friends celebrated the first day of Ridván. In Brooke's words, "it was such a lovely chance to deepen our friendships with the entire family of our children's class participants, especially when the day was directly focused on the person of Baháu'lláh and His message of unity and peace!"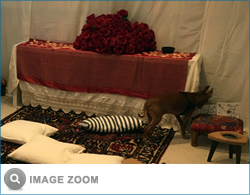 Brooke then explained: "We began the 1st day of Ridván Celebration by handing out tickets to "The Nightingale Express" – a train that takes you back in time to Baghdad in 1863. Our son acted as the conductor and he stamped our tickets for the first day. We then traveled on the train down the stairs and paddled across the Tigris river in our boat (a blue swath of material served as the river and a hole hoop with paddles for the boat). Our guests then entered the Garden of Ridván and experienced a room full of every plant in our home and a television playing a video of singing nightingales. Our daughter welcomed our guests into the Tent of Bahá'u'lláh and anointed their hands with rosewater."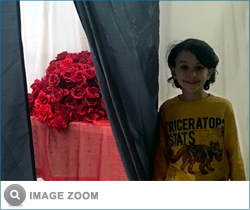 The guests seated themselves on cushions scattered around the floor and were given Ridván Garden coloring pages. A storyteller then spun the tale of Bahá'u'lláh's exile from Persia to Baghdad, the time He lived there and then his banishment from Baghdad. Everyone had many questions and a lively discussion ensued about Bahá'u'lláh, who He was and the relevance of the time He spent in the Garden of Ridván, which was where He proclaimed to his son and several others that He was the Promised One.

Afterwards, guests enjoyed enjoyed Persian tea served with saffron nabat in the tent, then went upstairs and had date-flavoured sharbat and ice cream with a choice of date, pomegranate, or maple syrup topping.