Ottawa Bahá'í Centre Events Calendar
---

Film Screening:
"Luminous Journey:
'Abdu'l-Bahá in America 1912"
at the Ottawa Bahá'í Centre
Sept. 13 at 7:30 p.m.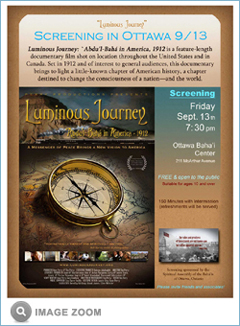 This professional documentary tells the story of 'Abdu'l-Bahá, the son of Bahá'u'lláh, founder of the Bahá'í Faith, during 1912, the year he spent in the united States and Canada. At the age of 67, having lived much of His life as a prisoner and an exile in Persia, Iraq, Turkey and Palestine, 'Abdu'l-Bahá travelled across the United States and to Montreal for 239 days. With a message of universal peace, the unity of East and West, racial harmony, gender equality, and a visionary view of America's future, captivating all strata of American society. He encountered thousands of people while traveling from coast to coast, attracting the notice of the press and imbuing America with a new sense of its destiny.
For more information and to see a preview please visit http://www.luminousjourney.org/
Free Admission - All are welcome!
Come early, film starts at 7:30 sharp!
Print Event Poster

Here
---
"Spiritual Autobiography: Getting to Know you Better"
Artist Joyce Frances Devlin


at the Ottawa Bahá'í Centre
Sept. 20 at 7:30 p.m.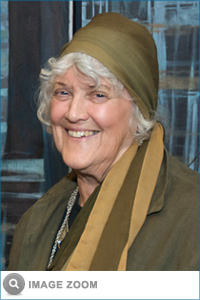 We are happy to announce that our series of spiritual autobiographies will resume this Fall.

Joyce

, who has been a devoted member of the Baha'i Faith since her youth, is an artist of significance in the Canadian Arts Community. Her paintings are included not only in many private collections, but also hang in the Canadian Parliament Buildings and the Supreme Court. She has always made her living by her calling. She has lived, worked and served the Faith in British Columbia, Quebec City, England and in the Ottawa Valley. In the mid 1950's she had the honour of meeting with the Guardian of the Baha'i Faith in Haifa.

Print Event Poster

Here



---

Bahá'í Holy Days
There are eleven holy days on the Bahá'í calendar
more..
---

Ottawa Bahá'í Centre

211 McArthur Ave. K1L 6P6
TEL: 613-742-8250
Map
---

Ottawa Bahá'í Centre
Public
Events Calendar
---

Read the Bahá'í response to the
"Ask the Religion Experts", a weekly question published every Sunday in the Ottawa Citizen newspaper. Read here...
---


Subscribe to Community News Feed using your web browser.
---

Subscribe to receive Community News Updates via email:

The Bahá'ís of Ottawa come from a variety of backgrounds, brought together by a common belief in the oneness of humanity and the unity of religion. We work alongside others to become a force of positive change, applying insights from the Bahá'í teachings to bring about a more just, peaceful and unified community.


---

May 20, 2014
Ottawa Bahá'ís participate in successful Reddit "Ask me Anything" discussion

Q&A session about Bahá'í principles finds a receptive online audience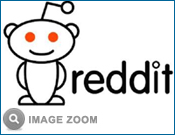 The Bahá'í community on Reddit, a popular social media website, broke new ground recently when it hosted an online question-and-answer session known as an AMA ("Ask Me Anything") on May 13th. Several Ottawa Bahá'ís participated in the event, which attracted a substantial amount of interest and wide-ranging discussion about the Bahá'í Faith.

AMAs are one-time events featuring an individual or group of individuals who field questions from Reddit's userbase. Any user can ask and vote for their favourite questions, which may range from the profound to the mundane. The person, or people, giving the AMA then answer those questions to the best of their ability. Many AMAs focus on a certain topic, but others, most often ones involving famous people, are completely open. Those who have given especially well-received AMAs include U.S. President Barack Obama, naturalist Sir David Attenborough, Microsoft founder Bill Gates, and astronaut Col. Chris Hadfield.

The Bahá'í AMA took place in a section of Reddit devoted to religion, as part of a series to allow its users to discover different faith traditions through discussions with individual believers. A number of Bahá'ís from around the world participated, fielding questions from members of many different faith and non-faith traditions. A wide variety of topics were covered: Bahá'u'lláh's vision in the Siyáh-Chál; the Bahá'í view of sexuality and gender identity; progressive revelation; universal auxiliary language; the unique station of the Báb; Bahá'í beliefs about the after-life; Bahá'í Holy days; the persecution of Bahá'ís in Iran and Egypt; and many more.

Those who attended called the event an excellent learning experience. One Reddit user noted, "I certainly learned quite a bit about Bahá'í beliefs that I wasn't aware of. My knowledge of the faith was rather general prior to reading through the explanations. I learned about [the Bahá'í Faith's] beginnings, the concept of a uniting religion for all people... I certainly didn't know everything about the different faiths as much as I thought I did."

Many of the Bahá'ís who attended found that the AMA was an excellent way to engage in public discourse, and a wonderful way to spread knowledge of the Faith. Indeed, not long after the AMA was complete, an article appeared in the Huffington Post summarizing its contents, entitled "Eight Things We Learned About Bahá'ís From The Reddit AMA", generating even more interest. Overall, this event provided a wealth of shared experience that should greatly advance the Bahá'í community's ability to engage in public discourse on the Internet.
---

March 15, 2014
Approximately 100 youth aged 15-30 gathered on March 1st at the Richelieu Vanier Community Centre for a full day of consultation, reflection and planning. The energy was palpable and appropriately accredited to more than just the sheer number of participants.

The youth came from diverse backgrounds, but had a united vision – to learn how to become an agent of material and social transformation. Many of the youth present had participated in the Toronto Youth Conference in July 2013, one of 114 world conferences organized by the Universal House of Justice with the aim of building the capacity of youth to contribute to the development of their communities.

Grouped geographically, the youth had the opportunity to go through workshops that explored concepts such as what defines a true friendship and how service can lead to the advancement of society. The last session was dedicated to planning specific community building activities that would be carried out in various neighbourhoods across Ottawa. Participants came together from a number of neighbourhoods across the City including Barrhaven, Mannotick, Downtown, Centretown, Sandy Hill, Gloucester, Greenboro, Heatherington, Kanata, Stittsville, Fairfield Heights, Nepean, and Orleans.

At the end of the day, the youth shared their plans along with artistic presentations reflecting what they had learned during the day with the larger group. Examples of activities that the youth planned include: initiating and strengthening existing Junior Youth Empowerment groups and children's classes; holding Arts nights; and extending an invitation to other youth to join the efforts.

One participant described the day as "a remarkable reminder of the capacity we have as youth to help transform our community." Another noted that she "looks forward to carrying out the plans made and inviting others!"
---

February 27, 2014
For the past several years, the Local Spiritual Assembly of the Bahá'ís of Ottawa has sponsored the Bahá'í Award for the Study of Peace and Conflict at Saint Paul University. This award is granted on an annual basis to a deserving full-time student entering their second year in the Master of Arts program in Conflict Studies at St. Paul's. The Award recognizes academic excellence and a personal and professional commitment to understanding the root causes of conflict and the promotion of non-violent conflict resolution.

This year, Husam Alsousi was chosen to receive this award for his thesis research entitled "Diverging Perceptions of Palestinian Youth for the Palestinian-Israeli Conflict." Mr. Alsousi traveled to Palestine to conduct his research with groups of university aged Palestinian Youth in two different areas. He presented each group with the open ended question "What is the Palestinian- Israeli conflict?" and from this question gathered a great amount of information on the opinions of young people both on this question and also on political affiliation.

The Award was presented by Mr. Fu'ad Foroughi on behalf of the Spiritual Assembly on Thursday, February 27 at a noon hour seminar. Following the award presentation, Mr. Alsousi presented his research and responded to questions.
---