On January 18th, 2016 approximately one quarter of the Bahá'í Community of Ottawa gathered for the Feast of Sultán (Sovereignty) and this group photograph was taken.
Click here
to see photo!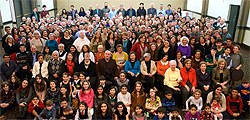 The art of Pauline Irving on display May and June in the Fireside Gallery downstairs.

---
Bahá'í Holy Days
There are eleven holy days on the Bahá'í calendar
more..
---

Ottawa Bahá'í Centre

211 McArthur Ave. K1L 6P6

TEL: 613-742-8250
Map
---

"Bahá'í Perspectives"

is the Bahá'í response to the

"Ask the Religion Experts"

column series

that formerly ran in the Sunday edition of the Ottawa Citizen newspaper. Read here...
---


Subscribe to Community News Feed using your web browser.
---

Subscribe to receive Community News Updates via email:

The Bahá'ís of Ottawa come from a variety of backgrounds, brought together by a common belief in the oneness of humanity and the unity of religion. We work alongside others to become a force of positive change, applying insights from the Bahá'í teachings to bring about a more just, peaceful and unified community.


---

April 15, 2016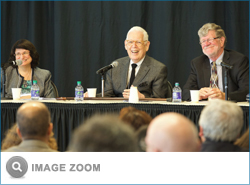 "You will be scattered like gems across the country." Mina Sanaee recalled Douglas Martin delivering this message to the Baha'i refugees in Pakistan when he visited them in the early 1980s. Mr Martin was the Secretary of the National Spiritual Assembly of the Baha'is of Canada at that time and Canada was the first country to open its doors to Baha'i refugees fleeing violent persecution in Iran. "Each Baha'i [who left Iran] faced a supremely painful decision [to leave] after patiently enduring daily acts of violence and injustice.... We were dispirited," Ms Sanaee said, but "he encouraged us with this message."

On September 21st, Ms. Sanaee, Mr. Martin and others gathered at Carleton University to participate in a a one­day Symposium on the Iranian Baha'i Refugee Movement to Canada, 1981­1989. About 100 people attended the event, including academics, civil servants, students, and community members. The conference was sponsored by the Baha'i Community of Canada, the Canadian Immigration Historical Society, and Carleton University's Centre for Public History, Migration and Diaspora Studies Initiative, and Carleton University's Department of History.

Prof Howard Adelman, a leading scholar in refugee studies, observed that the Baha'i community in Iran was targeted because they "reflect the spirit of modernity in their universalism". Eventually, some 2,300 Baha'is would come to Canada as part of a special program designed by the Government of Canada during the 1980s, in cooperation with the National Spiritual Assembly.

Gerry Van Kessel, who was Director­General of Refugees in the 1980s, commented that his work on the Baha'i program had been a "career highlight". When Douglas Martin approached the government for their assistance, there was an existing structure to facilitate the settlement of Baha'is from Iran. However, Van Kessel observed that what made the program work was the "trust and credibility" developed between Baha'i representatives and public servants. "That's how you get cooperation... and your credibility with us made this work."

Participants in the conference also heard from the perspective of refugees and civil servants in the field. Mark Davidson, now Director­General at Citizenship and Immigration Canada, was on his first posting to Islamabad, and he recalled being astounded by the remote locations to which Baha'is were resettled. More than 100 local communities as far away as Sandspit, BC, were sponsoring Baha'is. Afsoon Houshidari was four years old when her family fled Iran, and she shared her personal anecdotes and recollections of waiting for resettlement in Karachi and the excitement of preparing for departure to come to Canada. She only recently discovered that her family's visas were signed by her co­panelist, Dennis Scown.

The symposium heard about different experiences of Baha'is who came to Canada at that time, as well as from the perspective of community members who welcomed the arrival of the refugees. Panelists commented that the each experience was unique, and many of them involved trauma and great difficulty. Their resilience was often strengthened by their Baha'i beliefs and the unique cross­cultural connections made with their co­religionists and other Canadians.

For more information, see the article on the Baha'i World Service News. Additional pictures and notes have been posted on the website of the Carleton University Campus Association for Baha'i Studies.

The symposium website now contains videos of the full proceedings.
---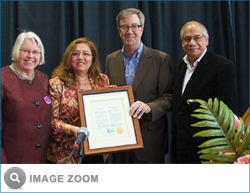 On January 17, 2016 Mayor Jim Watson warmly welcomed members of many of Ottawa's different faith communities who had gathered at City Hall to celebrate World Religion Day. "This is the best turnout we've ever seen for World Religion Day," the Mayor noted, to a crowd of approximately 250.
He characterized Ottawa's faith communities by their "many contributions and service to our community" which were well‐known and appreciated by city council, several members of which were also in attendance. The city's religious communities have always been quick to to "step up to the plate" for community issues, such as helping welcome refugees "to our country, to our city and to our neighbourhoods." This spirit of community service helped make Ottawa one of the most generous cities in the country in terms of volunteerism and charitable donations, he said. This
generosity was evident from "church to church, mosque to mosque and temple to temple across the city."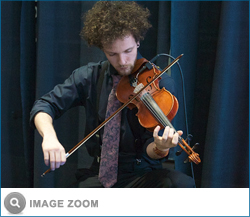 Mayor Watson thanked the Baha'i community of Ottawa for organizing World Religion Day and before making the official declaration, reminded everyone that the purpose of the event was "to unite everyone, no matter what their faith or origin and shows us that there are common foundations of all religions." World Religion Day, said Mayor Watson, "promotes harmony, mutual understanding and respect amongst all people of faith and it sends the message that we can work together to create a better world"
This year's program reflected on on shared values of service and building bridges between people, especially during times of conflict, prejudice and strife. The program featured many musical presentations from different traditions, and was closed by the Baha'i children's choir.
World Religion Day 2016

Photos © Louis Brunet
---

January 14, 2016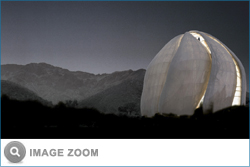 Ottawa, November 16, 2015

­ Canadian architect Siamak Hariri spoke to a packed lecture theatre at the National Gallery of Canada about the creative process behind the nearly completed Bahá'í Temple of South America. After a brief introduction to the evolving philosophy of his Toronto firm, Hariri Pontarini Architects, he shared some of the fascinating design challenges of this project. Hariri's accessible presentation style captured the imagination of both the professional architectural community and the members of the general public who were present that night.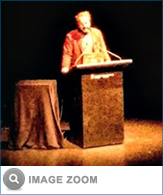 Worldwide, the Bahá'í community has constructed a House of Worship ­ or mašriqu­l­'aḏkār ­ on every continent except
South America. The Santiago temple will be the eighth and final continental "mother temple." The competitive process included some unusual building specifications, such as a four hundred year building mandate. The temple also needed to withstand considerable seismic activity, since it sits on a major fault line running down the Andes. Hariri's winning bid boldly proposed a temple of glass.
From the beginning, their guiding vision for the project was a "temple of light." Hariri narrated the winding journey to the final design. A recurring theme in his talk was Bahá'u'llah's parable of the mystic seeker and his troubled quest for his beloved Layli. Hariri described many design dead­ends and failed experiments with materials. As with the story of Layli, intractable problems gave way to unexpected
breakthroughs. Consistently, they maintained their focus on a vision of a sacred building of "embodied light."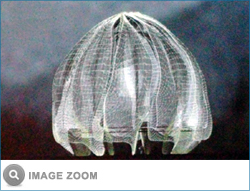 Beyond its translucent nature, the other characteristic of the temple is its dynamic motion. It appears to be twisting
around a central oculus in the centre of the ceiling. Hariri spoke of their desire to create a sense of "movement and stillness coexisting."
The design team asked questions like "what would this building feel like?" They imagined the irregular passage of light that one experiences sitting under a canopy of trees. They strove to create a sensation resembling the organic warmth of illuminated alabaster. Discussing the textures and forms that inspired their design, Hariri rarely mentioned other buildings. He referred to organic natural shapes such as eggs, shells and wings. He studied non-architectural cultural objects: Japanese baskets, billowing sails, canvas tents and the whirling robes of Sufi dancers.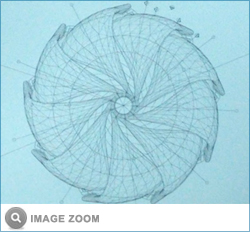 The innovative building techniques required traditional physical models and cutting­edge 3D rendering software. Their ideal building materials had to be invented and factories were constructed to produce them for construction. A steel lattice system of connector rods and irregular nodes frame the nine wings. These rest on concrete seismic isolation pads equipped with pendulums that permit each wing to move two feet during an earthquake. The steel skeleton is clad with a translucent skin made of three thousand square feet of custom shaped cast­glass panels. Portuguese marble provided a warmer texture on the interior, "like a jacket liner." The interior tracery, made of nickel­plated stainless steel and oak, was inspired by the abstract expressionist "white writing" paintings of Mark Tobey.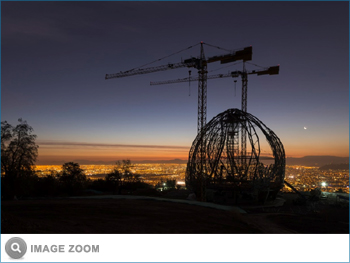 Hariri explained some fixed design elements found in all Bahá'í Houses of Worship. They should be welcoming to all, even those with no faith. Thus, Bahá'í temples have nine doors rather than one. They are circular and don't resemble churches, mosques or other forms of religious architecture.
This critically appraised design has been under construction for several years and is scheduled to open in 2016. For more information and links to the official photo and video logs of the construction process, click here.
---