---

This winters Art Exhibit in the Fireside Gallery features Jane Macmillan.

Jane will kick off the exhibition with a vernissage on Sunday, December 7 at 3pm.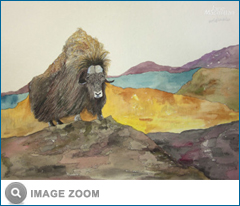 Bahá'í Holy Days
There are eleven holy days on the Bahá'í calendar
more..
---

Ottawa Bahá'í Centre

211 McArthur Ave. K1L 6P6

TEL: 613-742-8250
Map
---

Read the Bahá'í response to the
"Ask the Religion Experts", a weekly question published every Sunday in the Ottawa Citizen newspaper. Read here...
---


Subscribe to Community News Feed using your web browser.
---

Subscribe to receive Community News Updates via email:

The Bahá'ís of Ottawa come from a variety of backgrounds, brought together by a common belief in the oneness of humanity and the unity of religion. We work alongside others to become a force of positive change, applying insights from the Bahá'í teachings to bring about a more just, peaceful and unified community.


---

September 28, 2014
Sellout Concert at CD Launch of Bruno AR's "Celestial Mosaic"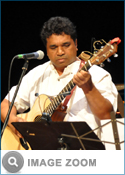 A packed audience gathered at the Wakefield Cultural Centre on July 26 for a concert by Ottawa singer Bruno AR (Bruno Alain Randimbiarison). Launching his first recording of original musical compositions, Bruno was joined on stage by a diverse group of talented local artists, many of whom are also featured on the recording.

Bruno is an artist with a global vision. His melodies are inspired by the musical traditions of his native Madagascar but also reflect a wide range of musical influences, including folk artists such as George Moustaki and Cat Stevens. At the concert, Bruno performed a selection of the fifteen tracks from his CD, all of which set to music the prayers and sacred scriptures of the Baha'i Faith.

While the production of the recording has taken place over the last couple of years, in some ways, the project spans decades. Some of the compositions were written as far back as twenty-six years ago when Bruno still lived in Madagascar, during which time he began to create music and complex vocal harmonies around the words of Baha'u'llah.

After the show, Bruno said he found it "very inspiring" to be playing with "the musicians and everybody who contributed to the project." To the delight of all present, he was joined onstage with a constantly shifting arrangement of musicians and singers. Bruno was also moved by the response of the crowd, "I felt that connection with everyone in this room and for me that was an amazing feeling," he said. "I was really totally surprised at how songs that I composed in the past had such an effect on the people now." When asked how he explained the dynamic connection between the music and the audience, he humbly replied that it was "the words of Baha'u'llah" that were woven through his music.

Bruno AR's CD "Celestial Mosaic" is available online or at
the Baha'i Centre, 211 McArthur Avenue, Ottawa (613) 742-08250


---

September 10, 2014
Youth Conferences and Activities Raising Community Capacities in Ottawa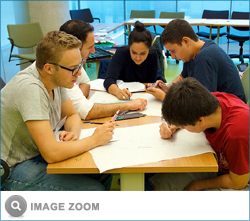 The Bahá'í community of Ottawa has seen an increased tempo of youth-focused activities and an increased engagement of young people since the summer of 2013, when 125 youth from the Ottawa area attended a Toronto Youth Conference that was part of a global series of youth conferences. This past March, Ottawa hosted a one-day youth summit that gathered approximately 100 youth to reflect on what participants had learned and achieved since the Toronto conference. Last month, in mid-August, a local youth conference brought together 140 youth for three days in Ottawa.

Emad Talisman was the logistics coordinator for this conference. He explained that these gatherings have gone hand in hand with increased youth participation in a series of regular ongoing activities in the community, including youth group activities, study circles and community service projects. These conferences and youth activities are open to everyone, not just Bahá'ís, and the focus on helping youth "examine their role in contributing to the betterment of society," Emad explained, has attracted many different people. In fact, one third of the recent Ottawa conference participants were not members of the Bahá'í community.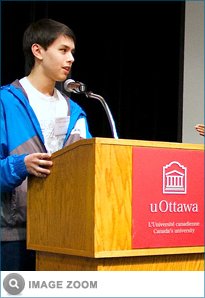 Emad speaks of the "privilege of witnessing the advancement of a community" as it rallied together to organize the most recent conference in a very short time. For those involved in organizing, running and facilitating the conference, he noted, a great deal of personal and community capacity was developed. "Large groups of friends," he explained, "planned and executed art activities and fundraisers, studied guidance from the Universal House of Justice, and explored their role in contributing to the advancement of civilization." He also identified the useful skills participants exercised when they evaluated what they had experienced. They "reflected on what we learned" and were able to "generate, synthesize and diffuse knowledge among large groups of people."

The arts played a prominent role in all the activities over the past two years. Artistic expression was one of the key ways that participants explored the themes of the conferences. Emad also emphasized the value of the bonds of friendship that were formed. "Singing, laughing, conversation, and food give life to study, reflection, and planning." He thought it was very important to always remember that the spirit of fellowship and friendship "gives us joy, and joy gives us wings."

"One thing I have learned from serving the Cause," he said, "is that change happens rapidly." Before last year, he said, many people had certain "comfortable" ideas of how to do things, but through the dynamic pace of action and reflection over the past couple of years, "our collective understanding has advanced tremendously."
---

May 20, 2014
Ottawa Bahá'ís participate in successful Reddit "Ask me Anything" discussion

Q&A session about Bahá'í principles finds a receptive online audience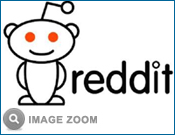 The Bahá'í community on Reddit, a popular social media website, broke new ground recently when it hosted an online question-and-answer session known as an AMA ("Ask Me Anything") on May 13th. Several Ottawa Bahá'ís participated in the event, which attracted a substantial amount of interest and wide-ranging discussion about the Bahá'í Faith.

AMAs are one-time events featuring an individual or group of individuals who field questions from Reddit's userbase. Any user can ask and vote for their favourite questions, which may range from the profound to the mundane. The person, or people, giving the AMA then answer those questions to the best of their ability. Many AMAs focus on a certain topic, but others, most often ones involving famous people, are completely open. Those who have given especially well-received AMAs include U.S. President Barack Obama, naturalist Sir David Attenborough, Microsoft founder Bill Gates, and astronaut Col. Chris Hadfield.

The Bahá'í AMA took place in a section of Reddit devoted to religion, as part of a series to allow its users to discover different faith traditions through discussions with individual believers. A number of Bahá'ís from around the world participated, fielding questions from members of many different faith and non-faith traditions. A wide variety of topics were covered: Bahá'u'lláh's vision in the Siyáh-Chál; the Bahá'í view of sexuality and gender identity; progressive revelation; universal auxiliary language; the unique station of the Báb; Bahá'í beliefs about the after-life; Bahá'í Holy days; the persecution of Bahá'ís in Iran and Egypt; and many more.

Those who attended called the event an excellent learning experience. One Reddit user noted, "I certainly learned quite a bit about Bahá'í beliefs that I wasn't aware of. My knowledge of the faith was rather general prior to reading through the explanations. I learned about [the Bahá'í Faith's] beginnings, the concept of a uniting religion for all people... I certainly didn't know everything about the different faiths as much as I thought I did."

Many of the Bahá'ís who attended found that the AMA was an excellent way to engage in public discourse, and a wonderful way to spread knowledge of the Faith. Indeed, not long after the AMA was complete, an article appeared in the Huffington Post summarizing its contents, entitled "Eight Things We Learned About Bahá'ís From The Reddit AMA", generating even more interest. Overall, this event provided a wealth of shared experience that should greatly advance the Bahá'í community's ability to engage in public discourse on the Internet.
---