---

This winters Art Exhibit in the Fireside Gallery features Jane Macmillan.

Jane will kick off the exhibition with a vernissage on Sunday, December 7 at 3pm.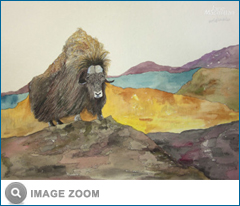 Bahá'í Holy Days
There are eleven holy days on the Bahá'í calendar
more..
---

Ottawa Bahá'í Centre

211 McArthur Ave. K1L 6P6

TEL: 613-742-8250
Map
---

"Bahá'í Perspectives"

is the Bahá'í response to the

"Ask the Religion Experts"

column series

that formerly ran in the Sunday edition of the Ottawa Citizen newspaper. Read here...
---


Subscribe to Community News Feed using your web browser.
---

Subscribe to receive Community News Updates via email:

The Bahá'ís of Ottawa come from a variety of backgrounds, brought together by a common belief in the oneness of humanity and the unity of religion. We work alongside others to become a force of positive change, applying insights from the Bahá'í teachings to bring about a more just, peaceful and unified community.


---

January 11, 2015
Rights and Dignity in an Interdependent World

Leading legal scholar provides hopeful insights on the state of international human rights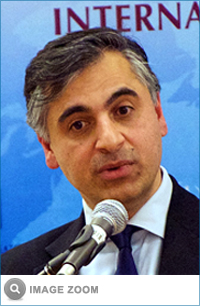 On November 13, Dr. Payam Akhavan of McGill University, shared his expertise in the field of international human rights in a public lecture at the University of Ottawa entitled "Human Rights in Decline? Redefining Dignity in a World of Extremes." The event was jointly hosted by the University of Ottawa's Centre for International Policy Studies, the Philippe Kirsh Institute and the Ottawa Bahá'í Community. The large crowd was engaged by Akhavan's ability to provide fresh perspectives on the questions of human rights, illustrated with historical examples and his extensive personal experience in precedent-setting international human rights tribunals. Many left with a sense that indeed there was cause for hope and encouragement in the global progress of human rights.

Throughout his talk, Akhavan emphasized the fact that we are all increasingly aware of the interdependent nature of our world. Globalization has its dark sides, but it also provides evidence of an emerging interdependent global culture, which includes a gradually expanding expectations of human rights. He quoted the Persian poet Saadi, who said that all humans are "the limbs of a single body" each feeling the pain of the whole, noting that the great poets and philosophers have always known this, but that with technology and social media, it becomes apparent to all of us in a very immediate and tangible way. As the world's interdependence becomes more and more obvious, Akhavan asserted that the promotion of human rights is not idealism, it is realism.

Those who continue to violate human rights and who try to exercise power through hate are unrealistic, said Akhavan, because they fail to understand the interdependent nature of the modern, globally connected world. The "pyromaniacs" and "ethnic entrepreneurs" as he called them, who resist a world of rights, have to go to great efforts to try and resurrect "old hatreds," "instrumentally evoking tradition from an imagined past to serve their present day purposes."

He challenged those in the West to recall Europe's long, slow and troubled path to its current understanding of human rights. It took 400 years of bloody strife for modern Europe to build up functioning democracies, the rule of law and respect for human rights. It was simply not realistic, he said for those in the West to expect other countries to develop fully functional democratic legal systems within a single generation, let alone a few years. Nonetheless, he told the audience that he was inspired by his recent visits to Afghanistan, where he observed remarkable progress being advanced by a new generation. He gave many other examples from his international experience that provided evidence of a gradually expanding, if still uneven, system of law and international human rights.

Continue...
---

November 27, 2014

Joyce Frances Devlin: An artist's Professional and Spiritual Journey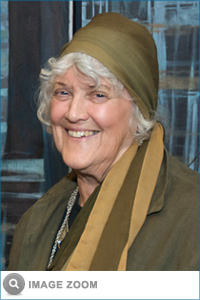 On Saturday evening, September 20, 2014, a crowd of about 40 friends from Ottawa and West Quebec gathered at the Baha'i Centre to hear the next installment in the Spiritual Autobiography Series. The featured speaker was the colourful, original and passionate artist Joyce Frances Devlin who lives and works out her studio-home in Burritt's Rapids.

Devlin discovered in her early childhood that she had been gifted with an exceptional artistic ability. She studied at the Vancouver School of Art between 1950 and 1954 amongst leading figures in the modernist art scene, graduating with honours. She was the recipient of the Emily Carr scholarship and completed post-graduate studies in London, Florence and Rome. Today her works appear in many prestigious private collections, including the Firestone collection which writes that she has developed "an interest in portraiture, landscape, and symbolic imagery. Devlin created what she called "interior landscapes": spiritually metaphorical images of birds and flowers as well as the juxtaposition of abstract collage with landscape imagery." Her works are also found in many public and corporate collections and she has had selected commission works by the University of Ottawa, McMaster University, The Senate of Canada and the Federal Court Commission.

The audience listened intently as Devlin recounted how she had been prepared for the acceptance of the Baha'i Faith from her early childhood onward, when she intuitively recognized, through her own understanding, dreams and visions, that all the prophets and all the great religions were one in their essence. Her preparation for acceptance of the Baha'i Faith was partly due to the influence of her liberal-minded father, who could not tolerate the teachings of the church that all non-Christians would be sent to hell.

In the mid 1950's, she had the honour of meeting the Guardian of the Baha'i Faith, Shoghi Effendi, during her pilgrimage to the Baha'i shrines in Haifa. Joyce was impressed by the beauty of Shoghi Effendi's character--by his humility, his refinement and his great vision and insight. Those gathered were treated to a memorable evening as Joyce recounted, with her usual unabashed frankness, verve and engaging humour, the highlights of her rich professional and spiritual life in British Columbia, Quebec City, England and in the Ottawa Valley.


---

October 11 2014
Junior Youth Camps in Ottawa
A summer of learning and service, fun and friendship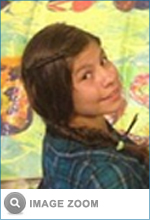 This past summer, members of the Ottawa Baha'i Community organized three day-camps bringing together over 90 junior youth from across the city. Two camps were neighbourhood-based and explored the influence of media on our lives. The third camp brought together junior youth aged 13 and 14 from across the city with the aim of preparing them to take on increased responsibility in lives of their community.

Anthea Nelson-James, who was one of the main camp organizers said that "It was phenomenal to experience the enthusiasm with which the junior youth participated in the activities, the eagerness they demonstrated in exploring and presenting the concepts, and their openness to making new friends."

Participants in the Greenboro and Heatherington neighbourhoods studied together, played games, and used art to analyse the media's positive and negative impacts. They then used this new-found knowledge to create their own claymation videos, posters, photography, and films that they were able to share with their family, friends, and community members at the end of the camps.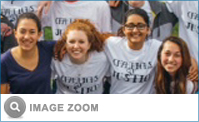 There was also an overnight camp for junior youth ages 13 and 14 where participants came together for spiritual
education, swimming, canoeing and a variety of other camp activities. At the end, the participants showed what they had learned by organizing and running a special program for the children of the Heatherington neighbourhood. These junior youth, running the children's program, demonstrated their increasing leadership skills, including their capacity to plan and carry out a service project that engaged their younger peers.

The engagement of the junior youth in the these summer camp activities enriched their communities, increased their leadership skills and strengthened the ties of friendship with their neighbors that have persisted after the camp ended.
---