---

Read the Bahá'í response to the
"Ask the Religion Experts", a weekly question published every Sunday in the Ottawa Citizen newspaper. Read here...
---


Subscribe to Community News Feed using your web browser.
---

Subscribe to receive Community News Updates via email:

The Bahá'ís of Ottawa come from a variety of backgrounds, brought together by a common belief in the oneness of humanity and the unity of religion. We work alongside others to become a force of positive change, applying insights from the Bahá'í teachings to bring about a more just, peaceful and unified community.



---

February 27, 2014
For the past several years, the Local Spiritual Assembly of the Bahá'ís of Ottawa has sponsored the Bahá'í Award for the Study of Peace and Conflict at Saint Paul University. This award is granted on an annual basis to a deserving full-time student entering their second year in the Master of Arts program in Conflict Studies at St. Paul's. The Award recognizes academic excellence and a personal and professional commitment to understanding the root causes of conflict and the promotion of non-violent conflict resolution.

This year, Husam Alsousi was chosen to receive this award for his thesis research entitled "Diverging Perceptions of Palestinian Youth for the Palestinian-Israeli Conflict." Mr. Alsousi traveled to Palestine to conduct his research with groups of university aged Palestinian Youth in two different areas. He presented each group with the open ended question "What is the Palestinian- Israeli conflict?" and from this question gathered a great amount of information on the opinions of young people both on this question and also on political affiliation.

The Award was presented by Mr. Fu'ad Foroughi on behalf of the Spiritual Assembly on Thursday, February 27 at a noon hour seminar. Following the award presentation, Mr. Alsousi presented his research and responded to questions.
---

January 19, 2014
World Religion Day Celebration in Ottawa
Ottawa's fourteenth annual celebration of World Religion Day began with an Aboriginal welcome and blessing, followed by a Baha'i prayer for unity. As in previous years, the event at Ottawa City Hall was a well-attended celebration of diversity, with members of a wide range of the national capital's religious communities represented. Representing the Mayor, Councillor Marianne Wilkinson proclaimed 19 January 2014 as World Religion Day in the City of Ottawa.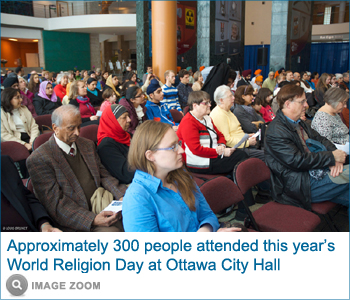 One of the organizers, Natalia Rodriguez of the Baha'i community, explained that World Religion Day aims to foster understanding amongst faith groups in the capital and to provide a forum to explore a common theme. This year's theme was "A Sacred Life: Beliefs in Action."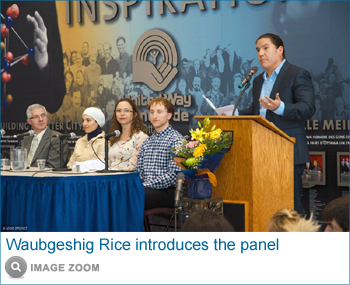 As in previous years, there was a strong artistic component to the event, including musical presentations by the Unitarian Church Chamber Choir, under the direction of Jacob Caines; the Sikh Children's Kirtan Group and the Tamir Choir, led by Cantor Daniel Benlolo.
For the first time, this year's gathering featured a panel discussion. CBC journalist Waubgeshig Rice moderated an engaging discussion between Dan Maki, a Christian; Nadia Abu Zahra, a Muslim; Bonnie McCutcheon, a Buddhist and Adam Moscoe, a Jew. Each in turn gave practical day to day examples of how they put their beliefs into action, within the context of their respective belief systems.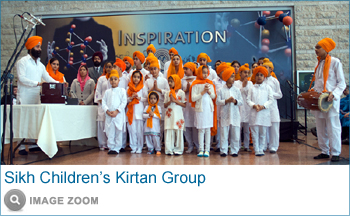 Devinder Tehran, whose children sang in the Sikh Children's Kirtan Group, explained that she was glad to participate in the event because it helped her kids "learn more about their world and to help them understand how we all strive to achieve peace in our world through different ways."


All photography by Louis Brunet. Click here for a gallery of more event photos.
---

December 10, 2013
Review of Makhmalbaf's "The Gardener"
Ottawa premiere of documentary film on the Bahá'í Faith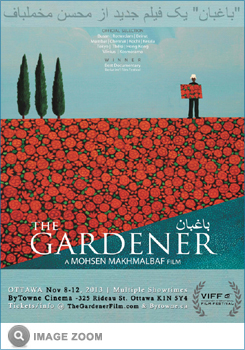 For several days in mid-November, Ottawa's Bytowne Cinema screened "The Gardener," the latest film by Iran's award-winning producer and director Mohsen Makhmalbaf. Makhmalbaf is not a Bahá'í, and his risky decision to make a film in Israel about the Bahá'í Faith constituted a double taboo for an Iranian filmmaker. The film has received very positive reviews in the New York Times, Variety Magazine and other publications and has won high praise at festivals around the world. Shidan Cummings was among the many Ottawa Baha'is who were eager to see the film and he agreed to provide the following review:

The Gardener (2012) "A poetic, artistic, and insightful look into religion and its role in society. The film follows the director and his son as they traverse the Bahá'í Shrines in Haifa and Akka, Israel. One, an agnostic optimist about religion and its potential power to transform society, and the other an agnostic/atheist pessimist who argues all religions start good but become corrupt and a detriment to society's advancement.

The visuals were breathtaking, and although the film has a low-budget feel, it sinks in on you halfway through that this style was indeed the best way to portray a comfortable and casual look into spiritual and social concepts. The filming style leaves plenty of breaks from content for the audience to reflect on the dialogue.

Those who will get most out of the film are those looking for a thought provoking and artistic look into religion. If you get bored easily from a film that doesn't have non-stop action, it isn't for you.

As a Bahá'í I was most impressed by the filmmaker's ability to select many excellent characteristics of the Faith to portray while not being a Bahá'í himself."
-- Shidan Cummings.

---