March 28, 2018
Naw-Ruz celebrations held across Ottawa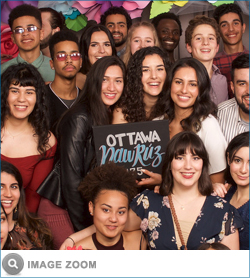 March 21st ushered in the first day of spring, a time when Canadians begin to look forward to warmer weather. The date is significant in many countries, with different ethnic and cultural groups around the world celebrating their new year at the same time as the spring equinox. In addition, for the world-wide Baha'i community, March 21st this year also marked the beginning of a new year - the 175th year of the Badi calendar. For Baha'is, the new year coincides with the completion of a 19-day period of fasting. This is a period in which Baha'is strive for spiritual renewal - a time for reflection, contemplation, mindfulness, prayer and a quest to improve our character. Just as the spring equinox heralds a time of renewal as the snow melts, and the landscape slowly but surely awakens from its winter hibernation, so also, the Baha'i new year represents a time of renewal of the spirit.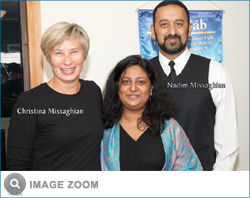 This year, Baha'i families across the city of Ottawa welcomed the new year with much joy and happiness. In the east end community of Orleans, the Missaghian family celebrated Naw-Ruz with a small gathering of friends and neighbours on March 24. "This new year is a particularly special one as it is the first one following the 200th anniversary of the birth of Baha'u'llah", said Nadim Missaghian, who works for Public Services and Procurement Canada.

Nadim, his wife Christina and their two teenage daughters decided to do something special to celebrate Naw-Ruz. In addition to serving coffee, tea and delicious sweets and decorating the house with streamers and balloons, the family setup three conversation stations on the main floor - one in the living room, one in the dining room and one in the kitchen. Each station was marked by a different theme - elimination of all forms of prejudice, progressive revelation and unity in diversity.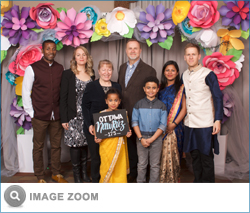 Participants moved through the different stations in small groups. These stations led to many informal discussions on the thoughts and feelings of those who came to celebrate the new year. Inspirational quotations from the Baha'i writings served to engender reflection and thought. Everyone who attended had much to say about all the issues. Young and old alike participated and shared their thoughts including 5 youth. Coffee, tea and sweets nourished the tummies of all participants. Towards the end of the evening, the Missaghians and their friends observed Earth Hour by turning off the lights and lighting candles.
"We are so happy to be celebrate the Baha'i new year with our friends and family - it was a perfect start to the rest of the year", said Christina. The Missaghian gathering was one of many Naw-Ruz celebrations across the city of Ottawa, including a very large celebration held at St Elias banquet hall on the evening of March 20th, which was attended by 800 participants.