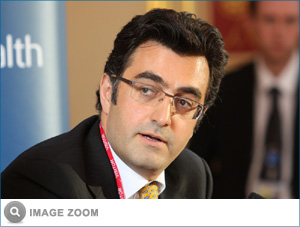 Journalist and film-maker Maziar Bahari is known to many Canadians as the subject of the recent Jon Stewart film Rosewater, which dramatized his imprisonment and torture in Evin prison after Iran's "Green Revolution" of 2009. While in prison, Bahari met many Bahá'ís, and their story inspired his new film, To Light a Candle,
The February 27th premiere coincided with a global campaign #EducationIsNotACrime, which was championed by Nobel Peace Prize laureates, including South Africa's Desmond Tutu and Iran's Shirin Ebadi, and popular figures such as Rainn Wilson and Mark Ruffalo. In Canada, the film was screened in over 90 communities across the country, including the Ottawa debut at the University of Ottawa's Alumni Auditorium. Bahari's film has been publicized widely, including a Globe and Mail op-ed and an radio interview by CBC's Michael Enright.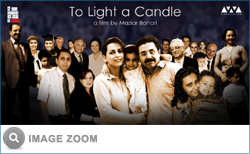 The film traces the persecution of the Bahá'í Faith from its origins in 19th century Persia to the upheaval following the 1979 Iranian Revolution. At that time, Bahá'í leaders were tortured and executed for "heresy" or other trumped-up charges, the community's holy places were destroyed and its cemeteries pillaged. Since that time, the Iranian regime has denied Bahá'ís access to university, solely because of their religion.
Using previously unseen footage, Bahari explains how the Bahá'í community responded by creating an underground university. Bahá'í professors, who had all been fired from their Iranian university positions, established the Bahá'í Institute of Higher Education (BIHE), based initially on informal distance-learning and later using the internet, to offer education to Bahá'í students across Iran who were otherwise denied a secondary education.
Tahereh, one of their professors interviewed in the film, explained how important education was to the Bahá'ís because of the persecutions. The authorities could take away our property, wealth and jobs, she said, but "they can't confiscate education!"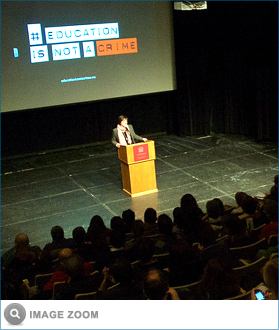 Although BIHE degrees were not recognized in Iran, Canadian universities, led by Carleton University and University of Ottawa, began to accept BIHE students into graduate programs. At the centre of To Light a Candle is the dramatic story of two BIHE students who came to Ottawa in the early 2000s. Kamran and Faran came to study Educational Counselling at Carleton University. After receiving their masters degrees, they returned to Iran, were married and then began to teach the next generation of BIHE students. Such a fearless decision by the couple is even more striking as the film reveals that Kamran's father had been arrested, tortured and killed by the Iranian authorities in 1979 because he had been a Bahá'í community leader.
Recently, Kamran and Faran were arrested, along with many other BIHE instructors. Their young son Artin lives with Kamran's widowed mother, while his parents are held in separate Tehran prisons. The personal tragedy felt by this family put a personal face on the widescale persecution suffered by the community. Bahari's film reveals the growing realization amongst the general Iranian population of the injustices imposed on the Bahá'ís by the regime. He documents the well-publicized visit of another Iranian filmmaker Mohammad Nourizad to the home of Artin, where he kissed his feet and apologized on behalf of his fellow countrymen.
The Ottawa Bahá'í community has an intimate connection with events of the film. Three speakers followed the documentary by sharing their memories and experiences of Kamran, Faran and others. Sherri Yazdani related her experiences helping welcome and orient BIHE students at Carleton and Ottawa Universities. Retired English Professor Phyllis Perrakis, explained how she volunteered as an online professor. She praised the "detachment, resilience, enthusiasm and gratitude" of her faraway students, but lamented the injustice of a society that would not allow them to maximize their educational potential. Despite persecutions, barriers of sporadic Internet connections, long bus rides to meet with professors in unfamiliar cities, and the constant fear of being arrested for studying mathematics or poetry in a private home, one of her students told her: "We will never give up!"
The final speaker was Mozhgan, a close friend of Kamran and Faran who came to Ottawa with them to study. A series of photos from those days showed many long-time members of the Ottawa Bahá'í community welcoming the three students and accompanying them during their time in Canada. Mozhgan, who now lives in Canada, related a very recent trip to Tehran where she visited Faran in Evin Prison, where Bahari had been tortured. She marvelled at the strength and resilience of her friend Faran, despite her imprisonmnent and her separation from her husband and young son.
This this past week, Faran Hesami was awarded the RAHA Human Rights Award. Because Faran is still in prison, her sister travelled to Geneva to accept the award on her behalf.
The film continues to win praise, most recently from the UN Special Rapporteur on Human Rights in Iran. For those who missed the premiere of "To Light a Candle", there will be another screening at Carleton University, this Friday at 7pm at 360 Tory Building.