June 28, 2011


Our Bahá'í Pilgrimage to Israel
By Nousha Ram


During the last two weeks of May, my husband and I, along with my mother-in-law were blessed to have the opportunity to visit Israel on a pilgrimage to the Bahá'í Shrines and holy sites. There were about 300 other Bahá'í pilgrims during our stay. We met Bahá'ís from Singapore, Australia, Canada, Macau, Colombia, Malawi, USA, and many other localities.

Bahá'ís are encouraged to undertake a pilgrimage at least once in their lifetime. Our pilgrimage spanned ten days and consisted of guided visits to the Holy Shrines, various other sites in the Acre/Haifa area associated with the Central Figures of the Bahá'í Faith, and the Terraces and gardens on Mount Carmel.

Each year thousands of Bahá'í pilgrims from around the world come to pray and meditate in the Bahá'í Shrines and holy sites. This region of Israel is sacred because it is where the Faith's prophet founder, Bahá'u'lláh, spent his last years and passed away. At Bahá'u'lláh's instruction, the spiritual and administrative center of His Faith is also permanently fixed in the Acre/Haifa area. The Bahá'í Holy Places in Haifa and Western Galilee are inscribed on the UN World Heritage list for their historical and spiritual significance, and the testimony they bear to the strong tradition of pilgrimage in the Bahá'í faith.

During our pilgrimage we were among a thousand followers of Bahá'u'lláh, from around the world, who gathered at His burial site on 29 May at 3 a.m. to commemorate the 119th anniversary of His passing. Around the globe, tens of thousands more turned their faces in the direction of the same shrine – for Bahá'ís, the holiest spot on earth – in remembrance of the night in 1892 that Bahá'u'lláh passed away at His home near Acre.

As part of the commemoration we were able to visit His home, the Mansion of Bahji, for a few minutes of private prayer in the very room where He spent His final hours. The room is maintained exactly as it was during the time of Bahá'u'lláh – even a pair of his shoes is there for the pilgrims to see. The quadrant of the gardens at Bahji nearest the Shrine of Bahá'u'lláh is known as the Haram-i-Aqdas – the most holy sanctuary. We were seated in chairs set up in the outer ring for a program of prayers and readings, after which we formed a procession to circumambulate the Shrine.

Bahá'u'lláh was born in Tehran, Iran, but He and a large group of His followers were banished from their native land in 1853 and forced to go first to Baghdad, then on to what was the Ottoman Empire and the remote prison city of Acre. As pilgrims we were able to visit His prison cell in the old walled city and three houses, including the one at Bahji, where He eventually was able to stay when authorities eased the stricter confinement of the prison barracks. His passing in 1892 followed nearly 40 years of exile from His native Iran before His incarceration in Acre in 1868.

For us, to be on pilgrimage during the anniversary of Bahá'u'lláh's passing was a time to remember his life of service, reflect on his suffering, and meditate on his message. Even for many who are not Bahá'ís, his injunction to humanity to have a "vision that is world-embracing," is recognized as relevant today as when he passed 119 years ago. Our pilgrimage served not only to inspire us, but also to bring us together with Bahá'ís from all over the world and give social cohesion to our Faith.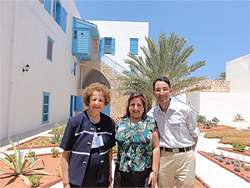 Pictured:

Margerit Ram, Nousha Ram, and Vargha Ram at one of the Bahá'í holy sites in Acre
The Shrine of Bahá'u'lláh at night