February 14, 2020
THE CLIMATE CRISIS AND THE BAHÁ'Í VISION
by Jay Howden
An encouraging audience of 35 gathered at the Ottawa Bahá'í Centre at 211 MacArthur Avenue for the first evening of the "Big Ideas" series. Diana Cartwright, a federal civil servant, has dedicated her professional life to understanding and action on environmental subjects. Her wide experience, from local activism to international congresses, made her an ideal presenter, on January 24, of "Environmental Crisis, Climate Emergency: Looking for Answers in the Bahá'í Revelation".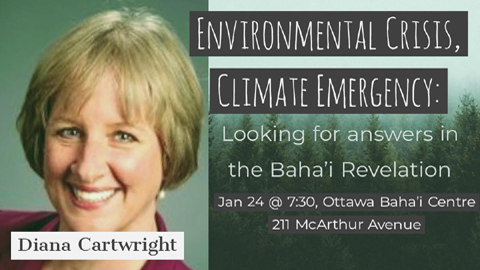 "As Naomi Klein wrote," Cartwright said, "the climate crisis changes everything." It invites extremes: while many ignore or even deny climate change, others despair that we've already failed. Yet despite grim assessments by scientists worldwide and the fires and floods deranging whole societies, there is hope, she insisted. Bahá'u'lláh made it clear that humanity is not just theoretically a single thing, but that its unity and peace are inevitable stages in its evolution. "The tabernacle of unity hath been raised; regard ye not one another as strangers, He announced. "Ye are the fruits of one tree, and the leaves of one branch."

Ms. Cartwright emphasized three concepts. First, she argued, "Climate change is acting as a catalyst to world unity." As dire and global as the effects of warming are – extreme weather catastrophes, the quieter threats of rising and warming seas – they also prove that national borders are illusory, and narrow self-interest counterproductive. Unprecedented, mounting levels of atmospheric carbon are a global emergency, and there is no hiding from the need to address them globally, together. We must unite and, as Cartwright pointed out, we are – though she wishes we moved a little faster!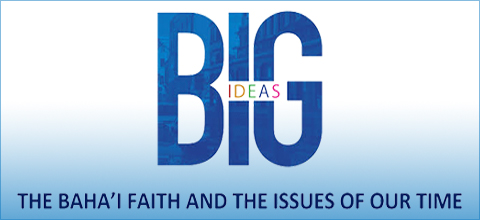 Second, the challenges of human-produced climate extremes necessitate a quest for global justice. Consider "carbon budgets". We're approaching 425 parts per million of atmospheric carbon, whereas 350 ppm is the widely accepted target needed to prevent greater devastation. So, who gets what share of the "budget" of permissible emissions? Western leaders point at China, the contemporary world's largest emitter; meanwhile, third-world voices point at North America's enormous per capita footprint, plus a longer chance to enjoy the economic fruits of industrial development. We're compelled to ask, what is just? Where should the burdens of leadership and sacrifice fall, and in what proportion? As the Bahá'í teachings explain, "the purpose of justice is the appearance of unity" within humanity.

Ms. Cartwright offered a third related point. Spiralling climate change is strong evidence that, in Bahá'u'lláh's words, "…the present day Order [will] be rolled up, and a new one spread out in its stead." We can't stitch this old planetary carpet here and there. Transformation is the order of the day. We need new approaches to international decision-making. We must de-carbonize our economies and challenge the dogma of unending growth. Above all, it is essential to rethink human nature, our relationships with the natural world, and with each other. Diana Cartwright's talk led to a smart, lively exchange in this, the first of three "Big Ideas" discussions.

To come: Tony Michel will speak on "The Bahá'í Faith and Human Rights" on February 21, while former Senior Governance Advisor for developing countries, Maury Miloff, will address questions of "Power, Conflict and Governance" on March 27, again at the Ottawa Bahá'í Centre in Ottawa.