February 9, 2020
A DEVOTIONAL GATHERING TO FEED BODY AND SOUL
As Wendy James and Bernie Benoit warmly greet people at the door of their lovely and inviting home, you can already feel the excitement and joy collecting among the people in the living room. Delicious potluck foods are filling up the counter in the kitchen, ready to regale the guests after spiritual food by way of a themed devotional, which begins with greetings and introductions. Wendy never ceases to amaze all those present with her capacity to remember everyone's name, either new or regulars, which often runs to between 10 and 20 people.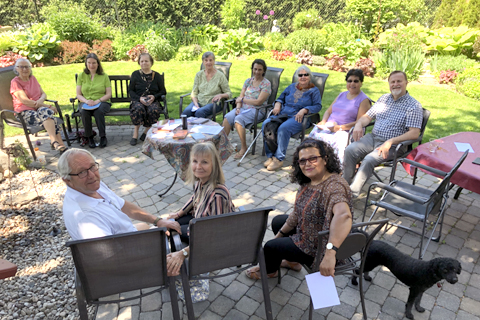 Prayers and writings are spontaneously read and shared, often interspersed with recorded or live musical renditions of prayers. This is followed by a collective reading of two pages of quotations from the Bahá'í writings and other sources on a chosen topic, mostly in English with some French, out of which a healthy debate takes place among the guests.

One year, they studied each of the attributes mentioned in the following quotation from Bahá'u'lláh: "For the attributes of the people of faith are justice and fair-mindedness; forbearance and compassion and generosity; consideration for others; candor, trustworthiness, and loyalty; love and loving-kindness; devotion and determination and humanity." In other years, topics for discussion included such attributes as courtesy, the nature of the soul and forgiveness, among many others.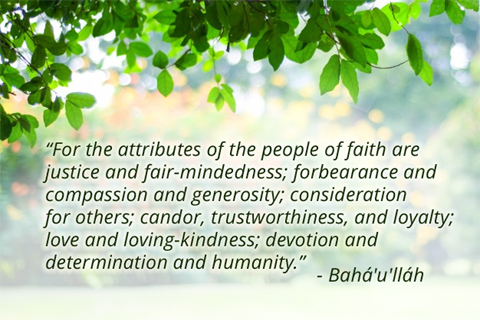 For many years, Suzanne Hébert, a dear member of the Bahá'í community who lived in Gloucester, also regularly assisted in planning the devotionals with Wendy and Bernie and provided music and loving fellowship to the guests until, dealing with terminal cancer, she could no longer continue. Her warmth, deep sense of service as well as her beautiful voice and guitar music are sorely missed.

Wendy and Bernie's long-time devotionals are part of a worldwide pattern where members of the Bahá'í community and their friends organize devotional gatherings in homes, community centres and other venues - these gatherings bring people together to focus on the sacred, to pray, and uplift our souls. In 2003, they began holding their popular devotional gatherings once a month on Sunday morning. Currently, they are holding their devotional gatherings about every two months.

About a week prior to the devotional, Bernie and Wendy usually send out an invitation by email and also announce their upcoming gatherings within their area of the Baháí Community. These gatherings are open to all. Attendees include Baha'is and their friends from diverse cultural and religious backgrounds.

The guests then remain for an informal potluck meal, where they socialize over the table, the living room or in their lovely back garden in the warmer weather. For some this is the first Bahá'í activity they are attending. Many have since started to participate in study circles or in other Bahá'í activities.