World Religion Day was founded in 1950 by the Bahá'ís of the United States, and since has spread worldwide, becoming an officially recognized event by many municipal governments and officials. It has since incorporated speakers and performers from the majority of the worlds religions and cultural backgrounds, and events are organized yearly by a coordinated effort from members of all religions. This event was first recognized in the City of Ottawa in 2000 by the city's Mayor, and this tradition has continued ever since.
The purpose of World Religion Day is to promote understanding and dialogue between the followers of all religions, to call attention to the common foundation of their spiritual principles, and to emphasize that "Religion must be the cause of unity". The day is observed with gatherings in homes, public meetings and events, campus activities, and panel discussions.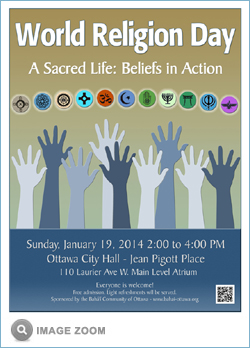 World Religion Day 2014


"A Sacred Life: Beliefs in Action"

Sunday, January 19, 2014
Ottawa City Hall, Jean Pigott Place
110 Laurier Ave W. Main Level Atrium
2:00 to 4:00 PM.
Everyone is welcome!
Free admission. Light refreshments will be served.
Sponsored by the Bahá'í Community of Ottawa - www.bahai-ottawa.org