December 27, 2017
Light of Unity Concert Marks Bicentenary Birth of Bahá'u'lláh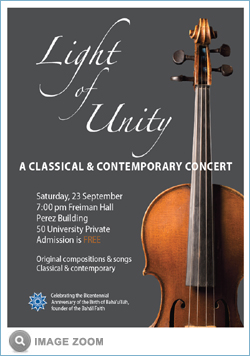 Fiona Armstrong had a strong desire to befittingly commemorate the 200th Anniversary of the Birth of Baha'u'llah. To fulfill this wish, she conceived a plan for a musical gala which would celebrate and pay tribute to Bahá'u'lláh. This wish and plan became the Light of Unity Concert which drew many attendees on Saturday evening September 23, 2017. The concert was held in the Freiman performance hall in the University of Ottawa Music building, a building Fiona was well familiar with, as a recent graduate from the University's music program.

A diverse audience enjoyed an evening, which was stunning in its musical diversity and quality, a worthy gift for Bahá'u'lláh.

The program opened with hostess Vivi Sorensen performing an East Greenlandic drum dance. Melody Rowhani then sang Bahá'í prayers accompanied by the ukelele, a rendition which created a reflective and spiritual atmosphere for subsequent performances. Fiona played cello as part of three very different duos: a lovely classical cello duo by Handel with Natalie Salguero; a beautiful tune composed for the occasion by Fiona and May-Jun Li, who played piano and sang; and two modern pop-based pieces with Tyler Carlson on guitar.


The audience was treated to performance by a number of other highly accomplished musicians. This included Leslie Opatril who performed a soaring flute solo. Valeria Dimitrova presented moving piano solos by Barber and Beethoven. Kevin Burke's rich baritone was accompanied by pianist Ylan Chu in a series of chansons romantiques. A week later, Kevin sang with the Ottawa Symphony Orchestra at the Shenkman Centre. To close the show, Risa Tonita talked about Robert Schumann and read his love letter to Clara (later his wife). She then performed two of Schumann's piano compositions.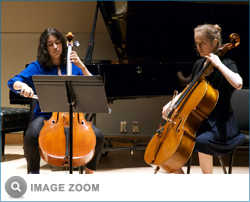 During intermission and after the program, the audience mingled, enjoyed elevated conversations and refreshments as well as viewed the three large posters displaying aspects of Bahá'u'lláh's life and principles of the Bahá'í Faith.

Attendees were grateful to the concert organizers which included Fiona and a group of friends who worked very hard on diverse aspects of the program and logistics, pulling the event together in a short timeframe.

The Bahá'í teachings state that God "made music as a ladder for your souls." In this regard, music plays a special role in our lives - just like prayer and meditation, music can help connect our hearts and souls with the divine. On this evening, many of those in attendance commented on the spiritual experience they felt at the concert. This event was one of the first of over 80 events held across the City of Ottawa in September, October and November to mark the 200th Anniversary of the Birth of Baha'u'llah.