December 24, 2012
Fourth Interfaith National Breakfast held on Parliament Hill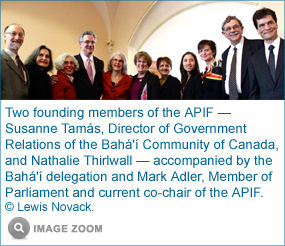 17 December 2012 (CBNS) — In November, the 4th annual Interfaith National Breakfast was held in the Parliamentary Restaurant on Parliament Hill in Ottawa. The breakfast was sponsored by the All-Party Interfaith Friendship group (APIF), and co-chaired by Mark Adler, Member of Parliament for York Centre, and Nathalie Thirlwall, a member of the Bahá'í community of Ottawa. The aim of the APIF is to create a space to explore how the religious heritage of the people of Canada can inform public life.

One hundred people attended — Members of Parliament, Senators, members of the diplomatic community, faith leaders and representatives. Each table had a diverse mix of politicians, diplomats and representatives from the Baha'i, Buddhist, Christian, Falun Gong, Jain, Jewish, Muslim, and Sikh religions.

After Adler's welcome, Thirlwall noted that "together, we comprise humanity with its rich diversity . . . we have much in common with each other. We draw on our shared spiritual heritage of values, such as love, selfless service to others, assisting our society to advance, humbly learning from others, helping the vulnerable, positively empowering our youth to contribute to society, and building communities that are compassionate as well as just."

Moses Znaimer, President of VisionTV, and Rev. Majed El Shafie of One Free World International gave short presentations. David Sweet, Member of Parliament and former co-chair of the APIF, introduced the guest speaker, Richard Landau, who spoke on "The New Age of Interfaith Dialogue: Important Trends Shaping the Future." He challenged the audience to move beyond polite discussion "characterized by friendly discourse."

People must learn how to have an "honest dialogue that is both frank yet respectful," not necessarily agreeing but "without making it confrontational."

Mark Adler, in his closing remarks, inspired by his own religious background, commented that two of the most meaningful things people can do are "to give our love and to give our labour." The breakfast was followed by discussion, which provided an opportunity for the speakers to address the issues raised and interact with the participants. Numerous questions and comments showed a desire for further interfaith dialogue.