December 12, 2018
Power and Peace Workshop

In October 2018, a personal growth workshop took place in Ottawa led by Hugh Smiley, a very interesting Bahá'í from Toronto whom I have known for more than a decade. Hugh is a thoughtful, funny, well-read and highly experienced practitioner working in the area where spirituality, psychology and physical health meet. A Bahá'í who lived for five years in Paraguay, he now works as a psychotherapist and bodyworker; he also teaches meditation and creative voicework. His passions include playing jazz piano and studying flamenco dance. For eight years he taught at Heartsong Hill, a 50-acre forested retreat on Georgian Bay that he founded. A graduate in peace and conflict studies from the University of Toronto, Hugh is also involved – through an international online community he started – in promoting authentic dialogue, which is very similar to the concept of consultation as practiced by Bahá'í individuals, families, communities and institutions.

This workshop, called Power and Peace Through Your Authentic Voice, was enjoyable and informative and, from what I saw, transformative to varying degrees for everyone. The Korasan Method weaves together sound production, movement, mindfulness, visualization and work with the chakras with the aim of helping participants to discover and cultivate the sound and ease of their natural voice and, having enhanced this instrument, to voice their truth.

Two summers ago, I attended a three-night retreat Hugh co-hosted on the Wikwemkoong First Nations in Manitoulin Island and came away feeling very joyous and clear. This October, my wife Helen and I were two of nine participants in the Ottawa workshop, which focused on the Korason Method created by Hugh while in Paraguay as a means of working through emotional blockages by using a combination of voice, movement, and questions.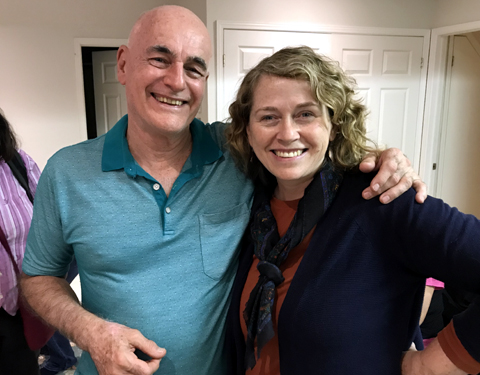 The Ottawa group bonded beautifully. Deep feelings were released and some tears were shed. Helen and I departed feeling united and newly recharged. I subsequently heard personal reports from participants of major shifts in perspective and of freeing up energy from old, problematic attitudes and behaviors. Hugh plans to return to Ottawa in 2019.