December 10, 2013
Review of Makhmalbaf's "The Gardener"
Ottawa premiere of documentary film on the Bahá'í Faith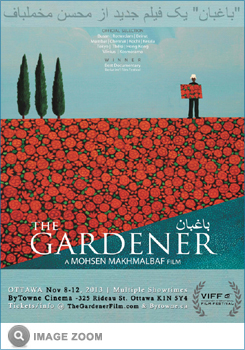 For several days in mid-November, Ottawa's Bytowne Cinema screened "The Gardener," the latest film by Iran's award-winning producer and director Mohsen Makhmalbaf. Makhmalbaf is not a Bahá'í, and his risky decision to make a film in Israel about the Bahá'í Faith constituted a double taboo for an Iranian filmmaker. The film has received very positive reviews in the New York Times, Variety Magazine and other publications and has won high praise at festivals around the world. Shidan Cummings was among the many Ottawa Baha'is who were eager to see the film and he agreed to provide the following review:

The Gardener (2012) "A poetic, artistic, and insightful look into religion and its role in society. The film follows the director and his son as they traverse the Bahá'í Shrines in Haifa and Akka, Israel. One, an agnostic optimist about religion and its potential power to transform society, and the other an agnostic/atheist pessimist who argues all religions start good but become corrupt and a detriment to society's advancement.

The visuals were breathtaking, and although the film has a low-budget feel, it sinks in on you halfway through that this style was indeed the best way to portray a comfortable and casual look into spiritual and social concepts. The filming style leaves plenty of breaks from content for the audience to reflect on the dialogue.

Those who will get most out of the film are those looking for a thought provoking and artistic look into religion. If you get bored easily from a film that doesn't have non-stop action, it isn't for you.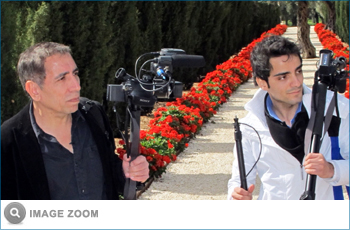 As a Bahá'í I was most impressed by the filmmaker's ability to select many excellent characteristics of the Faith to portray while not being a Bahá'í himself."
-- Shidan Cummings.