November 28, 2015
Remembering Winnifred Harvey
The 75th anniversary of the Ottawa Bahá'í Community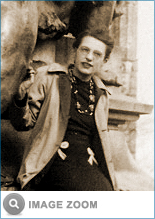 In June of 1940, twenty-nine year old Winnifred Harvey arrived at the old Ottawa train station after a long journey from Winnipeg, excited to join the Canadian public service, which was growing quickly in response to the needs of the Second World War. She carried with her a B.A. degree from Brandon College, where she had graduated first in her class, and a resume which included several years of teaching in rural schools and at Winnipeg's Dominion Business College. More importantly, she carried a small book of writings of the Bahá'í Faith, which had been given to her by Winnipeg's first Bahá'í, Rowland Estall.

Winnifred had belonged to an adult education group called the "Phoenix Club," which included Rowland Estall, one of the earliest Canadian Bahá'ís. As a voracious reader, Winnifred was soon discussing Bahá'í ideas with Rowland, and reading her way through his Bahá'í library. She was very attracted to the Bahá'í Faith which to her was a beacon of hope in the dark days of the Depression that ravaged the Prairies. It also seemed to her to be absolutely sensible. After reading all of Rowland's books on the topic, she then went to the library and tried to find evidence to refute it. She could not. But before she could investigate much further, she was hired by the federal public service, and left Winnipeg for Ottawa with Rowland's book and the contact information for a group of Bahá'ís in Montreal.

One summer Sunday, not long after her arrival in Ottawa, she took the train to Montreal and had tea with a group of ladies she had never met before. At first she saw them as just a group of older middle class women, but then she realized they had something more and that their belief was genuine. Winnifred felt that she had stumbled upon a jewel. Impelled to act, she returned to Ottawa and wrote a letter to the Shoghi Effendi, the Guardian of the Bahá'í Faith, at its world headquarters in Haifa, Israel. In the years that followed, she would always claim that she had been the hundredth Bahá'í in Canada.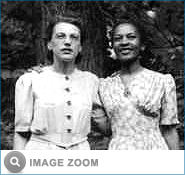 She may have been the first and only Bahá'í in Ottawa, but she did not keep this jewel to herself. Within a year, she would be holding regular discussion groups, called "firesides," in her Ottawa home to tell others of the Bahá'í Faith. Through her love for the Bahá'í Faith, she attracted others to join her, and from those initial efforts today's Ottawa Bahá'í Community emerged. For the rest of her life, WInnifred worked to support the development of the Bahá'í community at the local, national and international levels. In 1970, she left the Ottawa area to serve at the Bahá'í world headquarters in Haifa, Israel. She died there In September 1990 was buried in the Bahá'í Cemetery in Haifa.

Seventy five years after Winnifred Harvey brought the Bahá'í Faith to Ottawa, there are now about 1200 Bahá'ís in Ottawa who further the principles of their Faith by promoting the social and spiritual advancement of their neighbourhoods and communities. "Back in 1940, when she first arrived in Ottawa, Winnifred knew that she was at the beginning of a great adventure, and wanted to make a difference in a world that had been devastated war and economic depression " said her niece Heather Harvey, a member of the Ottawa Bahá'í Community. "Winnifred never married and had no children, but everywhere I go, I meet people that she inspired and encouraged. She never doubted that the Bahá'í Faith was the answer to the ills of the world, and therefore worked tirelessly to ensure its growth. She loved young people and would be so happy to see the work of Bahá'í youth to transform their neighbourhoods into beacons of unity and service."