November 27, 2012
Law and Love: A Special Lecture on the Kitáb-i-Aqdas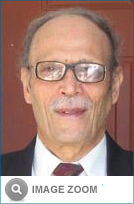 On Saturday, November 17th, the Ottawa Bahá'í Centre was pleased to host a presentation by Dr. Lagha Fanaian, family law lawyer, and author of Loving Law: A call for a spiritual reform of family law and the legal profession. He has been practising and teaching law for over forty years, in three different countries, most recently Canada.

Dr. Fanaian, who has been a member of the Baha'i Faith since his youth in Iran, is also a spiritual philosopher. Based on his study of the writings of the Bahá'í Faith, most especially the The Kitáb-i-Aqdas, he has put forward the uncommon claim that love and the law are closely bound to one another.

The Kitáb'i-Aqdas is the Bahá'í book of laws revealed in 1873 by Bahá'u'lláh, the Faith's founder. In the introduction, Bahá'u'lláh writes, "O peoples of the world! Know assuredly that My commandments are the lamps of my loving providence among my servants, and the keys of My mercy for My creatures".

Dr. Fanaian pointed out to his audience that the Bahá'í book of laws began with references to love and mercy. Few approaches to the law, whether secular or sacred, make such prominent reference to these subjects. These twin themes of law and love informed his subsequent remarks on the meaning of justice.

The evening closed with a summary and response by local Bahá'í author Jack McLean and a period of comments and questions from the audience.