November 17, 2013
The Play of Light: a photo exhibit
By Nathalie Thirlwall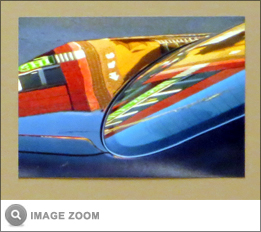 A thought provoking photo exhibition of Stephen Thirlwall entitled "Myriad reflections on the automobile," is currently being held at the Ottawa Baha'i Centre until the end of December. The opening of the exhibit, i.e. Vernissage, featured an array of photos hung on the wall as well as many works displayed on the tables. Though the theme focuses on vehicles, it is not merely about cars or trucks, but rather it deals with the collage of reflections --- images, colours, patterns, and textures.

During his presentation at the official opening, Stephen informed us that his soul is moved by light and warmth and is fascinated by its emanations and shadows. He stated "Light, in all its various forms, is scientifically, the energy that creates life; spiritually, it is the creative aspect of the power of love. Without it, there is no life or creation". From a spiritual and intellectual perspective, light renders recognition, inspiration, appreciation and understanding.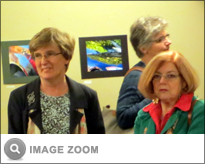 The exhibition does not prescribe how to view the work. Rather it invites us to "take in" the photos of myriad of reflections as we wish: as a personal meditation; a social commentary; an artistic study; or just one moment captured in time that shows something interesting, mysterious, or beautiful. It challenges us to view with new eyes, see in new ways.

Baha'u'llah wrote that "Indeed, the attainments of man's understanding are dependent on his keenness of sight. Were the children of men to gaze with the eye of understanding they would see the world illumined with a new light in this day."

The exhibition is available to view downstairs of the Baha'i Centre, 211 McArthur St., just east of the Vanier Parkway, during opening hours.