November 6, 2012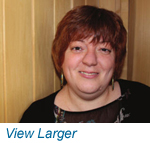 Barbara Pope, a local artist and member of the Ottawa Baha'i Community, was profiled in a recent issue of Capital Woman magazine. Barbara is a visual artist who works with vibrant tones in watercolours and ink. She is also a photographer and a published poet.

In an inspiring profile for the magazine's "Ordinary Women, Extraordinary Lives" feature, Sherri Yazdani interviewed Barbara and they talked about the connections between her art, her spiritual journey and her struggles with cancer.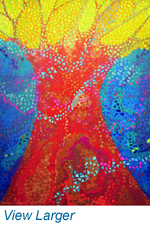 A series of health problems in her 20s caused Barbara to reflect on her life and increased her desire to "engage in meaningful activities, to effect change" and to embark upon "a spiritual search." The article explained that in joining the Baha'i community, Barbara found the wealth of living "in the act of sacrifice, and in service to others." She has used her art to support the work of local organizations such as Harmony House and the Sexual Assault Support Centre (SASC) of Ottawa.

Despite the fact that Barbara has faced four distinct bouts of cancer, she does not self-identify as a "cancer survivor." As she states in the article, "I'm living, just as you are. Surviving connotes the continued carrying of a burden. I like to travel a little lighter." You can read this inspiring profile in its entirety here.