October 24, 2017
A Commemorative Quilt to mark the Bicentennial of the birth of Baha'u'llah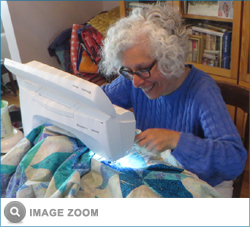 Leading up to the 200th anniversary of the birth of Baha'u'llah, Baha'is across the Ottawa region have found many creative ways of marking this important Holy Day.

"As a quilter," said Nathalie Thirlwall, "the creation of a bicentennial quilt seemed a natural way to demonstrate my love of the Blessed Beauty." Nine women, some new to quilting, joined in the project, which included several quilting workshops at the Baha'i Centre and Thirlwall's home.

The quilt design consisted of nine blocks, each containing a large single star. Each woman sewed one block, using an array of turquoise, mauve and cream batiks. The main blocks were surrounded by a double border and once the batting was sandwiched between the top and bottom layers, Thirlwall quilted intricate motifs of leaves, roses, fleur-de-lis, lotus flowers and a single nightingale. Final touches included a label, binding the edges and a sleeve to hang the quilt.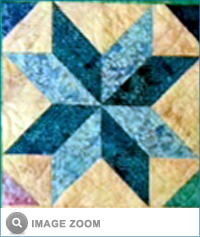 "The making of the quilt enabled the development of a number of spiritual qualities," said Thirlwall, "including patience, perseverance, creativity, precision and joy." The nine women who pieced the quilt - Afia, Jacquie, Shahnaz, Sima, Nathalie, Nazila, Elham, Katja, and Catherine and Susan who did the ironing - devoted approximately 400 hours to this project. There are plans to make a book about the process and feature it in a quilt show in the fall of 2018.

The quilt, which is named "Seek and ye shall Find," was gifted by the women to the Local Spiritual Assembly of the Baha'is of Ottawa to honour Baha'u'llah's bicentennial birthday. This beautiful work of art is currently on display at the Ottawa Baha'i Centre.