October 19, 2019
WELCOMING A POET HOME
By Heather Cardin


As a former writer with the Ottawa Creative Writers' Group recently returned from a decade in Saskatchewan, I attended the book launch of their poetry chapbook, When Verses Fell, on September 28 at the Ottawa Bahá'í Centre. Several poets offered readings from When Verses Fell, along with a few specials for the occasion. Family members and friends, some more versed in poetics than others, seemed delighted with the smorgasbord of verses on offer. Audience members were also given an opportunity for feedback: comments were insightful and appreciative.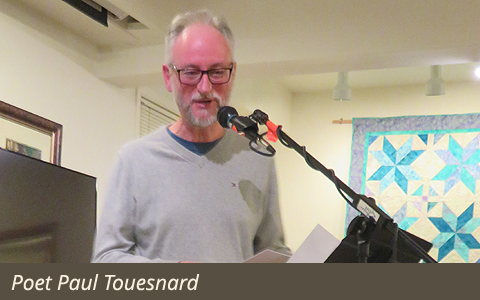 Peter Brady offered his always-original Haikus to start the evening, after an eloquent introduction by emcee Jack McLean. As each poet spoke, and read, there was a feeling in the room which I attribute to the effect of the arts on the soul: we were listening, deeply and heartfully, to the word "paintings" coming alive. Linda O'Neil shared the poem from which the chapbook's title came, an imagined reverie about being in the presence of the Báb as He revealed the Divine. John Dickie and David Erickson both evoked a spiritual spell. Stephen Thirlwall and Maryl Weatherburn brought their appreciation of the natural world, and Thirlwall, along with poet Paul Touesnard, also shared humorous styles. A personal favourite, for me, was Thirlwall's "…and all that lies between…" but you'll have to buy the chapbook to read how fun it is.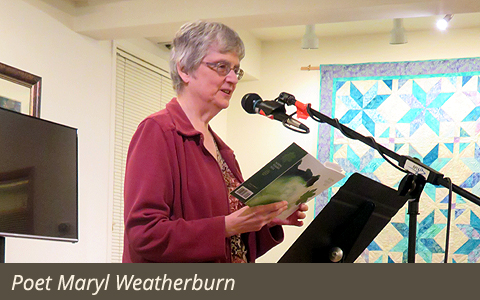 Jim Desson, Carol Gravelle, and Sylvie Nantais all have distinctly different voices, but somehow each has learned the poetic value of a powerful closing line. I was moved by Desson's poem for his wife. His poems, early in the evening, brought a recurrent theme of love to the event; several poets were able to call the audience to the language of the heart. Some of Gravelle's lines reflected central metaphors of spiritual upliftment. Nantais offered poetry in different styles, perhaps none so delightful as her observations of birdlife in her country sanctuary. Diane Richard provided the music of her Shakuhachi flute...a lovely addition to the tapestry of beauty the evening presented.

In addition to his role as emcee, Jack McLean read with expertise and eloquence; his voice is mellifluous and his delivery impeccable. At a poetry reading, speech is crucial. McLean nailed it. His poetry is its own kind of music.

The chapbook itself is a beauty, ably edited by Jim Desson and graphic design by the artistry of Del Carry.

Perhaps no more fitting summary exists than to quote one of Maryl Weatherburn's short poems: A lone blade of grass / Serene - playing in the wind / The river moves on. Somehow, this captures the beauty of the moment in time, the spell of poetry holding us in that moment, that place where time suspends, and verses fall. It was lovely.