Published by
Bahá'í World News Service
October 2,2020
October 14, 2020
PANDEMIC SPARKS CRITICAL REFLECTION ON JOURNALISM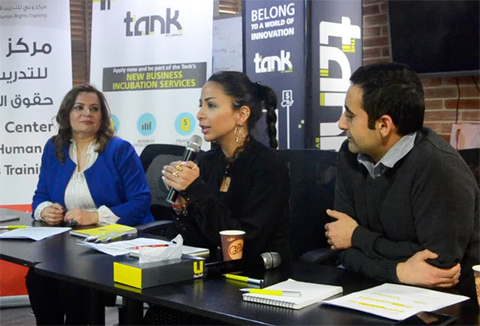 AMMAN, Jordan, 2 October 2020, (BWNS) — Earlier this year, as the pandemic was sweeping across the globe, something unusual happened in news reporting—profound ideas about social transformation and acts of solidarity were making headlines worldwide. Although less pronounced now, news outlets continue to feature such stories, many of which would have been considered irrelevant or insignificant before the crisis.

Responding to increased interest among media professionals about new approaches to the field, Bahá'í communities in several countries have been exploring with journalists and others how the media can contribute to societal harmony and stimulate thoughtful conversations on issues facing humanity.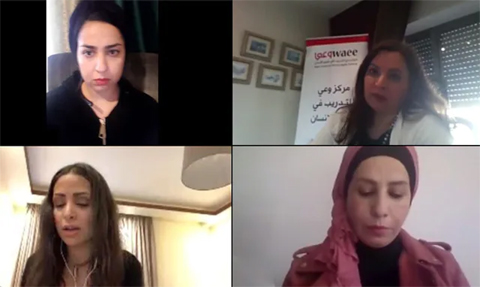 The Bahá'ís of Jordan have been hosting roundtable discussions with journalists on how the media can be a source of hope for society. "The Bahá'í teachings envision the media as a vital element of society with the potential to be a mirror for the world, reflecting the range of experience of diverse people," says Tahani Ruhi, of the country's Bahá'í community's Office of External Affairs.

"At certain points in the past few months, a fuller picture of the world has been reflected in news reporting: not just of sensational narratives, but also of the constructive processes that exist in every community. The media's power to inspire hope has become especially visible during this time. Due attention has been given to positive developments—big and small—that show the nobility of people and their capacity to put the needs of their fellow citizens ahead of their own."

Ghada al-Sheikh of the Al-Ghad newspaper, a participant of the roundtable meetings, says: "These discussion spaces are allowing us to better understand important concepts related to progress and to think deeply about their implications for our work. Our consciousness of our mission as journalists is being strengthened as we consult together on issues of social and economic solidarity and how the media can contribute to people's sense of priorities."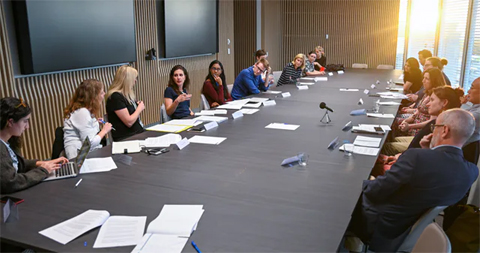 The roundtable participants in Jordan have also been looking at the impact of structural factors in a media industry shaped by commercial interests. "Media practitioners should not view themselves as competitors, but as collaborators. We are seeking truth, whatever form of media we produce," said Mahmoud Hishmeh, director of the East and West Center for Dialogue and Sustainable Development, during one of the discussions.
On the other side of the world, the Australian Bahá'í community has also been bringing journalists and others in media together to examine how to be conducive to social cohesion, an issue of great significance in the country. One such effort includes a series of structured discussions, in collaboration with First Draft and the Centre for Media Transition, bringing together media practitioners to reimagine the Australian media landscape.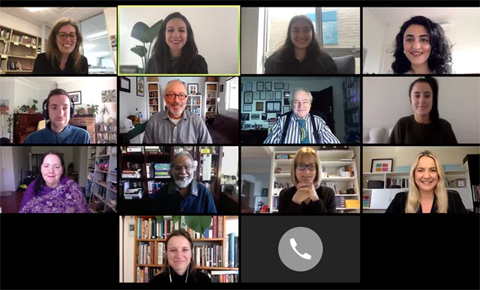 "By drawing on the principles of Bahá'í consultation we have had the opportunity to exchange diverse experiences respectfully and in an environment that is encouraging and dynamic," says Venus Khalessi of the Office of External Affairs. "In what is often a fast-paced environment, where complex decisions are made under immense time pressure, media practitioners appreciate the opportunity to step back and reflect on how to apply guiding principles and values to the situations they face."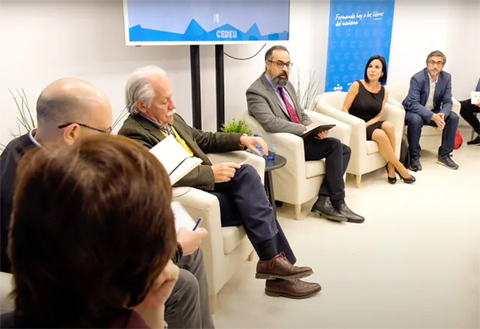 At one gathering, Alan Sunderland, Executive Director of the Organization of News Ombudsmen and Standards Editors, said, "There are a lot of people talking at the moment about how the media can do more than just highlight divisions, but can talk about things that unite us. That is challenging for journalism, which traditionally is built on a conflict model, one where you find problems to expose. Finding ways to be constructive while recognizing that there is a fundamental requirement for journalism to ask difficult questions is a really interesting issue to explore."

Participants at the most recent gathering in Australia expressed that the current health crisis has shown more than ever the responsibility of media to act for "the greater good of humankind." Just as there is a need for accuracy in reporting facts, participants have noted the need for stories to convey values conducive to harmony. Examples of this during the pandemic have included a greater effort by news outlets in the country to report on stories of community-driven response and resilience.

Meanwhile in Spain, the Bahá'í community has also been having conversations with journalists and other social actors about the need to overcome division and polarization in response to crises.

"Early in the pandemic, new topics entered the public consciousness," says Sergio García of the country's Bahá'í Office of External Affairs. "Media outlets focused on discussions of the need for greater international cooperation; the need to transform economic models to be more sustainable, inclusive, and resilient; and many other profound ideas in all areas of life.

"Though older patterns of media coverage reemerged after some time, this change showed a glimpse of how media can open the horizons of human thinking and foster a deep discussion about our common future in a shared world. Media contributes to setting the tone for relations among different elements of society, and it can generate the feeling that we are one world and one people who need to work as such to address our common challenges."

Watch video presentation here.

To read the story online or see more photos, visit news.bahai.org.

© 2020 Bahá'í International Community