October 4, 2022


The Climate Crisis: Hope and Context
"As for you, O ye lovers of God, make firm your steps in His Cause, with such resolve that ye shall not be shaken though the direst of calamities assail the world. By nothing, under no conditions, be ye perturbed. Be ye anchored fast as the high mountains, be stars that dawn over the horizon of life, be bright lamps in the gatherings of unity, be souls humble and lowly in the presence of the friends, be innocent in heart…"
— Selections from the Writings of 'Abdu'l-Bahá, no. 199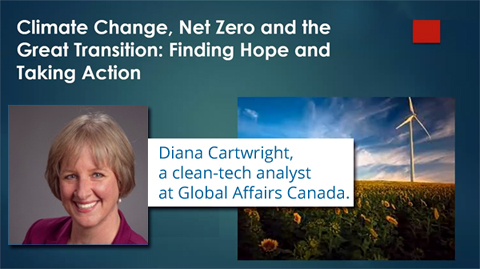 With the Ottawa Bahá'í Centre once again open for in-person events, "Big Ideas" went live for an evening entitled "Climate Change, Net Zero and the Great Transition: Finding Hope and Taking Action". Speaker Diana Cartwright, a clean-tech trade commissioner at Global Affairs Canada, was frank about the accelerating evidence of our global climate crisis. She also, however, offered sources of hope from the Bahá'í teachings and community experience, as well as current progress in sustainability and green technologies.

Ms. Cartwright began close to home: "How is climate change affecting you? Why do you care?" Ottawa residents replied: shorter winters; more extreme weather events, from tornadoes to freezing rain; plus, outdoor rinks and cross-country skiing are compromised! In fact, the National Capital Commission foresees a nearly 2-degree (Celsius) rise in temperatures in the next decade, and a nearly 4-fold increase in the number of summer days with plus-30 temperatures. Cartwright confirmed for the audience that the climate crisis is not coming, it is here, now. And in case we've forgotten, nations like ours have contributed massively to the carbonization of our atmosphere, the main cause of rapid climate change.

Scientific consensus argues that we must avoid more than a 1.5 degree rise from 2020 global average temperatures at the risk of an upward spiral of heat. There is a limited "budget" of further carbon emissions to prevent such a dangerous feedback loop. Furthermore, who produces those emissions? Fifty tonnes of emitted carbon per capita over the next three decades, is the projected maximum. However, each Canadian currently contributes on average nearly 20 tonnes every year, while the average Pakistani, Nigerian or Puerto Rican produces less than one tonne annually. Said Cartwright, "To lower our carbon footprints, we have to electrify everything!" She explained the idea of "Net Zero" which, basically, means that by 2050 carbon emissions cannot exceed the amount removed by forests, oceans, and by technological means. It is a massive global challenge.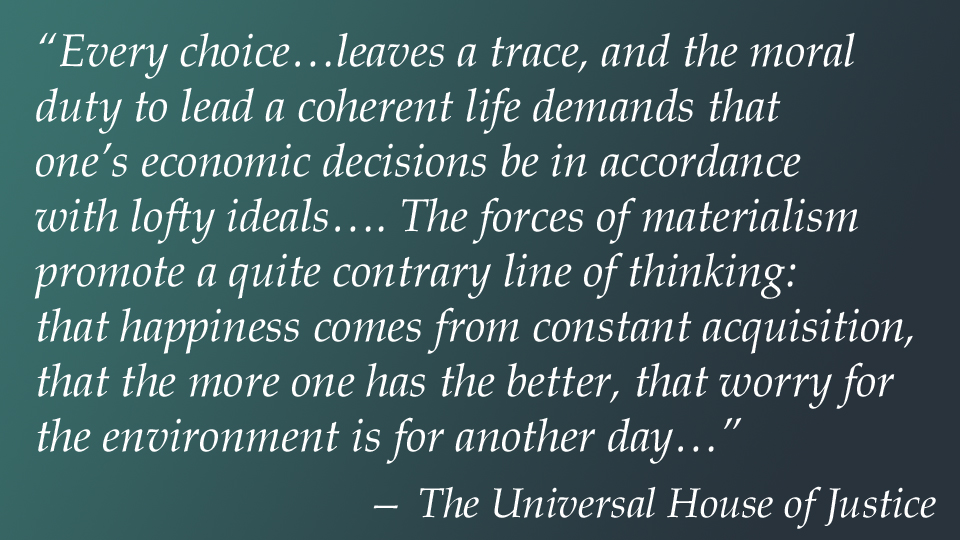 But there is real progress and genuine reason for hope from two sources: technological solutions, and the perspective of Bahá'í wisdom and practice. First, Ms. Cartwright offered some "green-tech" good news. "The solutions are already here. We just need to implement them." Smart electrical grids, carbon capture technologies, improved solar and wind generation, new approaches to nuclear or hydrogen power – countless innovations are available. "Since 2009, solar energy costs have declined by 90%, and wind energy by 72%. In Norway, 86% of new-car sales were electrical vehicles in 2021 (in Canada we are at about 3%). We're moving. We have to move faster."

We must also change negative views of human nature, destructive attitudes towards the environment, and what the Bahá'í writings describe as "the fetish of national sovereignty." The prophet-founder of the Faith, Bahá'u'lláh, foresaw an "ever-advancing civilization" that would lead to peace on earth – but also spoke of the necessary disintegration of a "lamentably defective" social order. Since the 19th-century, destructive forces have been obvious, but as Cartwright noted, there has also been tremendous integration. The community-building processes developing among Bahá'ís, their friends and the broader community "allow us to know and trust one another, making it easier to share, from the proverbial cup of sugar to snow blowers, even cars! Learning and sharing together, as more and more communities do, leads naturally to sustainability." She also quoted the great anthropologist Margaret Mead: "Never doubt that a small group of thoughtful, committed citizens can change the world. Indeed, it is the only thing that ever has."

The Universal House of Justice, the elected council of the Bahá'í world community, memorably challenged believers and their friends in 2017:

"Every choice…leaves a trace, and the moral duty to lead a coherent life demands that one's economic decisions be in accordance with lofty ideals…. The forces of materialism promote a quite contrary line of thinking: that happiness comes from constant acquisition, that the more one has the better, that worry for the environment is for another day…"

Diana Cartwright called on her listeners to manufacture hope by taking action, however small. "Start conversations. Communicate the risks. Share solutions. Inspire others to join in!" She left no doubt as to the size of humanity's challenge, but also a conviction that we have the spiritual, scientific, and communal resources to overcome them. How long will we wait?