September 28, 2014
Sellout Concert at CD Launch of Bruno AR's "Celestial Mosaic"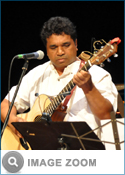 A packed audience gathered at the Wakefield Cultural Centre on July 26 for a concert by Ottawa singer Bruno AR (Bruno Alain Randimbiarison). Launching his first recording of original musical compositions, Bruno was joined on stage by a diverse group of talented local artists, many of whom are also featured on the recording.

Bruno is an artist with a global vision. His melodies are inspired by the musical traditions of his native Madagascar but also reflect a wide range of musical influences, including folk artists such as George Moustaki and Cat Stevens. At the concert, Bruno performed a selection of the fifteen tracks from his CD, all of which set to music the prayers and sacred scriptures of the Baha'i Faith.

While the production of the recording has taken place over the last couple of years, in some ways, the project spans decades. Some of the compositions were written as far back as twenty-six years ago when Bruno still lived in Madagascar, during which time he began to create music and complex vocal harmonies around the words of Baha'u'llah.

After the show, Bruno said he found it "very inspiring" to be playing with "the musicians and everybody who contributed to the project." To the delight of all present, he was joined onstage with a constantly shifting arrangement of musicians and singers. Bruno was also moved by the response of the crowd, "I felt that connection with everyone in this room and for me that was an amazing feeling," he said. "I was really totally surprised at how songs that I composed in the past had such an effect on the people now." When asked how he explained the dynamic connection between the music and the audience, he humbly replied that it was "the words of Baha'u'llah" that were woven through his music.

Bruno AR's CD "Celestial Mosaic" is available online or at
the Baha'i Centre, 211 McArthur Avenue, Ottawa (613) 742-08250