September 18, 2015
Australian singer/songwriter performs in Ottawa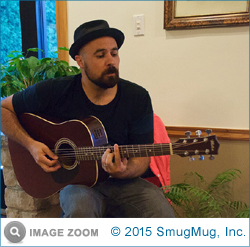 On Saturday, September 5th around sixty music fans gathered at the Ottawa Bahá'í Centre for a Tom Francis concert that promised to "Elevate the Spirit with Music." They were not disappointed.

Francis is an Australian singer/songwriter who was born and raised in a musical Bahá'í family in New Zealand. Most of the songs he played were original compositions touching on themes of hope, loss and love that aimed straight at the heart. His soulful tunes, many of which were inspired by Baha'i writings, were interspersed with well-crafted narratives that echoed the same themes, striking an effective balance between songs and story telling. One highlight was a beautiful and uplifting cover of "Stand by Me."

At several points in the evening, Tom got everyone to join in, encouraging the audience to hum along, backing him up on several songs. An enthusiastic audience filled the room with a beautiful melody and were rewarded with three encores ("one last song!") that were met with hearty applause.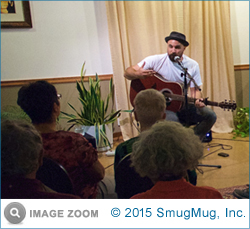 After the show, Francis took time to chat with his new fans and friends, who lined up to purchase his latest CD, "From Up There." This disc is his second release and its 10 tracks are recorded and produced with a deliberate simplicity that perfectly suits his warm, intimate sound. Click here to sample or purchase the album, which contains a tender, unplugged cover of the 1980s classic "Mona with the Children" by Canadian musician Doug Cameron. After leaving Ottawa, Francis continues his North American tour with stops in Montreal and Chicago.