September 1, 2020
RACIAL PREJUDICE and RACIAL UNITY
Incidents and events during the summer have focused the attention of the world on the issues of racial injustice, racism and prejudice. These are all longstanding blights which impact lives and serve to undermine humanity's progress towards building a more unified and just world, one where all its inhabitants are treated with dignity.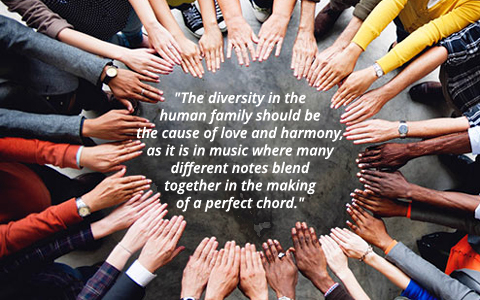 Bahá'ís in Ottawa and their friends have been discussing this most pernicious issue while considering the contribution that they can make on a daily basis towards ridding our society of racism. In a modern world where technological advances have enabled human beings to visit the moon, where self-driving cars may soon be part of our society and where small handheld devices enable communication with some of the most remote parts of the world, it seems unfathomable that the racial harmony and racial justice envisioned in the Writings of Bahá'u'lláh have not yet become a widespread reality.

Advances in policy and governance in the 60s, 70s and 80s have brought about many changes in the world as governments and civil society organizations work to establish a more just society, one that is devoid of racial injustice and racial prejudice. However, policy and governance alone are insufficient to address the issue. It is the hearts and minds of each of us in society that ultimately needs to change. Regardless of race, skin colour, nationality, religion or any other factor, we need to genuinely think of each other as equal and deserving of respect and dignity. The question before each of us is the following - what steps can each of us actively take to shed any traces of prejudice from our personal lives in all our interactions whether at home, in the community or in the work place?


A number of devotional gatherings and meetings have taken place in Ottawa, organized by members of the Bahá'í community and their friends, where they have shared prayers and held heart to heart discussions on Writings of the Faith such as those from Abdu'l-Bahá who stated "And among the teachings of Bahá'u'lláh is that religious, racial, political, economic and patriotic prejudices destroy the edifice of humanity. As long as these prejudices prevail, the world of humanity will not have rest....".

And writing about diversity, Abdu'l-Bahá further wrote: "The diversity in the human family should be the cause of love and harmony, as it is in music where many different notes blend together in the making of a perfect chord. If you meet those of different race and color from yourself, do not mistrust them and withdraw yourself into your shell of conventionality, but rather be glad and show them kindness."

In addition to discussions, some members of the community have been inspired to write poetry and use the arts to convey their thoughts and feelings as we strive to foster racial unity and work towards racial justice. Below is one such poem from Carol Gravelle, a member of the Ottawa Bahá'í community.