August 124, 2020
A VIEW FROM THE MOUNTAIN: COVID-19 AND THE CONDITION OF THE WORLD
Imagine: what if the world had a democratically elected council whose only mandate was to guide humanity's progress toward oneness and harmony? Such an institution is no dream. The Universal House of Justice, conceived in the writings of Bahá'u'lláh, the founder of the Bahá'í Faith, was first elected in 1963 in a remarkable process free of campaigning or ambition. On July 18, around 200 Ottawa Bahá'ís and friends heard the insights via Zoom of a former Universal House of Justice member, Dr. Fereydoun Javaheri, on the state of the world. Originally from Iran, Javaheri served professionally and voluntarily in several African nations for 23 years before serving for 15 years on this international council which meets at the Bahá'í World Centre on Mount Carmel in Haifa, Israel.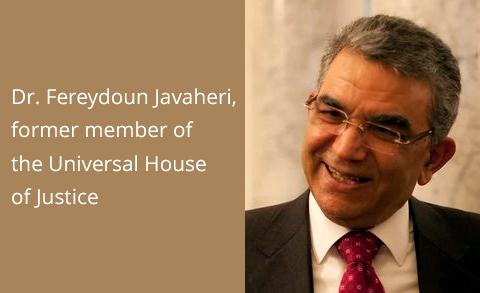 Dr. Javaheri set the stage: as global attention had turned to the threat of climate change, a global pandemic arose. As that crisis deepened, the "inhuman act" of the George Floyd murder caused "unprecedented global outrage" over longstanding racial injustices – emergency upon planetary emergency. In all these spheres, "humanity is demanding the establishment of true racial equality, of a more united world." This is not new, but the scale is. Javaheri recalled that after both World Wars came efforts to create international order, but each time global leaders stopped well short of what was necessary. There are many obstacles to unity, but most clear is the gross imbalance between the moral dimensions of human life and the material ones.

What are the remedies to these three crises and other global ills? Dr. Javaheri prescribed several: renunciation of racial and other biases; revitalized leadership; appreciation for the transformational capacity of local neighbourhoods; grasping how materialism distorts our approach to problems; and, above all, the real recognition of the oneness of humankind. All are central to Bahá'u'lláh's 19th century proclamation of humanity's needs, ideas that Bahá'ís and their friends are well aware of. How can humanity overcome its weaknesses and realize the marriage of spiritual and material progress?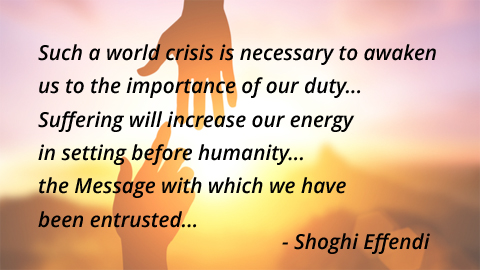 Dr. Javaheri called upon all "to be flames of hope and reassurance" in seeking the common good. The Bahá'í community has never been more able and has clear guidance about what to do amid current confusion. Greater calamities may yet visit humanity, for which it appears still to be poorly prepared, but the Bahá'í world proceeds calmly but energetically along a well-lit path toward building a "divine civilization". In 1932, the Guardian of the Bahá'í Faith, Shoghi Effendi, wrote: Such a world crisis is necessary to awaken us to the importance of our duty... Suffering will increase our energy in setting before humanity…the Message with which we have been entrusted….

Dr. Javaheri sees the Bahá'í community's increasing collaboration with like-minded groups as "essential to the evolving world consciousness". During these compounding crises, a series of messages from the Universal House of Justice has called Bahá'ís to "noble aims, high resolve and intense endeavour" in neighbourhood education and social action that address humanity's urgent needs, and to consider "what means might be within their power to prevent, relieve, or mitigate suffering… When society is in such difficulty and distress, the responsibility of the Bahá'ís to make a constructive contribution to human affairs becomes more pronounced."

Characteristically avoiding any claim of individual authority, Dr. Javaheri's talk and response to questions invoked hope, as well as encouragement to align our lives with service and spirituality as the watchwords. He concluded with assurances from the institution on which he once served, which wrote, on the first day of spring 2020:

However close to the limits of their endurance some sections of societies are brought, humanity will ultimately pass through this ordeal, and it will emerge on the other side with greater insight and with a deeper appreciation of its inherent oneness and interdependence.