August 15, 2016
Ottawa Bahá'ís Participate in Sri Chinmoy's 2016 Peace Run Welcoming Ceremony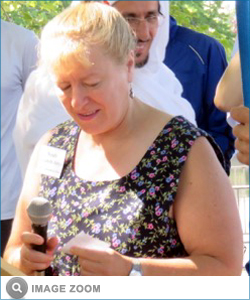 "May you become as the waves of one sea, stars of the same heaven, fruits adorning the same tree, roses of one garden in order that through you the oneness of humanity may establish its temple in the world of mankind"

-

Abdu'l-Bahá




On the morning of August 3, 2016 Mrs. Wendy James chanted these words by the son of Bahá'u'lláh, the Founder of the Bahá'í Faith, during an interfaith welcoming ceremony in Ottawa's International Peace Garden. This gathering, which included diplomats and representatives from six faith communities, honoured more than a dozen runners from Canada, Australia, Ukraine, Slovakia and Germany who have been running throughout the United States and Canada since April in support international peace and harmony.

Mr. Salil Wilson, the Global Executive Director of the Run, told the approximately sixty participants at the welcome ceremony that this annual run was founded in 1987 by meditation master Sri Chinmoy. After leading meditation sessions at the United Nations, Sri Chinmoy invited runners from across the globe to bring a torch of peace across the world. During these runs, said Mr. Wilson, it becomes evident that what unites us is far greater than what divides us. People everywhere want happy and loving lives.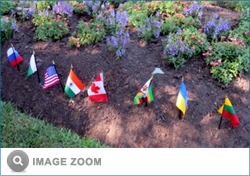 Sixteen members of Ottawa's diplomatic corps, representing countries in Africa, South and Central America, Australia, the Caribbean, and Europe added words of support and encouragement to the runners. Peace starts with each individual, said one; another emphasized the need to make peace with one's enemies, for it is easy to be peaceful with one's friends; while another speaker stressed the importance of respect at the grassroots levels. The representative of Costa Rica, which disbanded its army in 1948 and established a university for peace, spoke of the need to educate people in peace.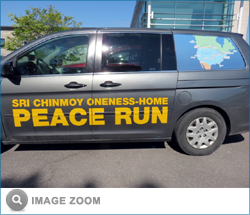 Before chanting the words of Abdu'l-Bahá, Mrs. James mentioned that Bahá'ís around the world were working to establish a culture of peace with children, youth and adults, seeing all as members of one human family, confident that, in the words of Bahá'u'lláh, "these fruitless strifes, these ruinous wars shall pass away and the most great peace shall come."