July 27, 2020
HOW TO MAKE THE WORLD WORK FOR 11 BILLION PEOPLE
Talk by Paul Hanley
As part of the Big Ideas series, on Friday, June 19, Paul Hanley, a longtime environmental columnist with the Saskatoon StarPhoenix, gave a Zoom talk on how to make the world work for 11 billion people based on his book, Eleven. Attended by around 50 participants, in a fascinating and thoughtful presentation supported by high quality slides and even a short video, Paul showed us two sides of the human coin, that of disintegration and integration and how these can be transformative.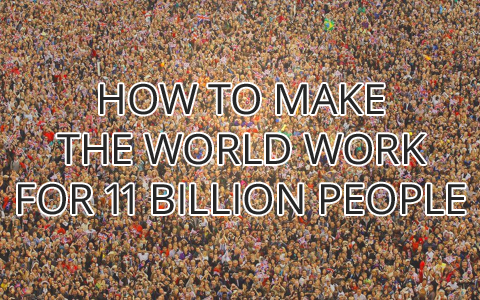 Initially, Paul gave a broad overview of the negative elements that are afflicting the world at the moment: environmental disasters, pandemics, loss of biodiversity, financial crises, race and gender inequalities, and reliance on meat production with livestock outnumbering humans 3 to 1, to name a few.

Paul covered a number of fascinating statistics, such as the fact that where once it took 10,000 generations to reach a population of one billion by 1400 CE, it now takes less than a generation to add another billion. As a result, our ecological footprint is causing us to overshoot the earth's capacity by 60 percent. Much of our wealth, (or in this case, illth), is the result of unfettered and unsustainable materialistic growth that is causing more problems than it is solving.

He then made the argument that there are three protagonists required to transform the world into a more sustainable, equitable and unified form. The first is the individual, whose positive actions and awareness of his or her surroundings bring about changes both environmentally, socially and spiritually. As Bahá'u'lláh, the founder of the Bahá'í Faith has revealed: Let your vision be world embracing. The second are communities, where civil societies are having a greater share in bringing neighborhoods and cities towards greater sustainability and turning consumers into prosumers, who are directly involved in renewable energy and human-powered food production. Currently, there are 800 million urban farmers/gardeners in the world. The third protagonists are institutions – like the United Nations, or forward-thinking governments such as in Bhutan, where they focus on gross national happiness, or New Zealand, whose economic model is based on the wellbeing of its citizens.



We live in the Anthropocene Era, the age of humans, and as 'Abdu'l-Bahá, the son of Bahá'u'lláh, stated, "the reality of man is his thought". That being so, our thought in this material age has totally transformed the ecosphere to the brink of disaster, but as Paul Hanley asserted, "by collective focused human attention through unity of thought and action, we can actually move the world in wonderful ways." Examples that he gave include both India and Ethiopia planting 200 million trees and 4 billion trees respectively, China regenerating an area the size of Belgium that had been completely depleted by the relentless grazing of animals, which he presented as a short video. He also showed slides of community gardens and various agro-projects, both in rural areas and in cities. Some of the showcased projects were undertaken by various Bahá'í communities and their friends in different parts of the world.

Paul also put forward the idea that supporting the rural poor, which covers a third of humanity, and the importance of the farmer, is also front and centre in the regeneration of the world and humankind. By eliminating poverty through sustainable agricultural practices and collective cooperative action, productivity will increase and in turn will make a huge difference in the world and will impact a number of areas, including climate change. This type of endeavour is well aligned with one of the main tenets of the Bahá'í Faith, which is to eliminate extremes of wealth and poverty. Recognition of the essential oneness of the world's peoples is a key driving force in sustaining efforts towards this direction.

In short, carrying forward an ever-advancing civilization requires consultative will, building sustainable societies, focusing on service, ecological restoration and ethical education that will bring with it deep cultural and spiritual change.
Watch the video presentation of this talk here.

The Big Ideas series are held regularly and hosted by the Ottawa Bahá'í community at the Ottawa Bahá'í Centre. During the Covid-19 health crisis, the sessions have moved online. Previous presentations have focused on different topics including human rights, international development and climate change.