July 20, 2016
Accompaniment: Ottawa Youth Group Translating Bahá'í Study into Community Service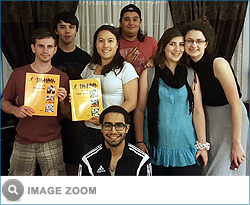 Since 2013, a group of youth from the Nepean area have been growing together as they have completed five books in the Ruhi Institute series. As they have gained the knowledge, skills and capacity to serve their community they have been putting knowledge into action in the spirit of Bahá'u'llah's guidance "Let deeds, not words, be your adorning."

David Pittis facilitates the youth group with his wife Tamara. "It's important for me to help youth develop a pattern of life that includes service to humanity as a firm and ongoing component," he said.
As a natural outgrowth of their learning and discussions, the group has taken on greater responsibilities in their community, hosting devotional gatherings and Holy Day celebrations. After learning about the importance of spiritual education they are now playing leadership roles by animating junior youth groups or helping to run children's classes.

To Bahá'ís, youth is an important period of life when one has the opportunity to develop healthy habits of a life in service to humanity. Teens can connect easily with the younger generations. They can accompany each other in their moral and spiritual development as true friends.

"I feel the Ruhi institute courses have helped me find the courage and strength to serve my community alongside my friends," said Mateen Siushansian. He animates a junior youth group in Nepean. Youth like him, he thought, could work with those younger than them, as a role model and as someone who could "help them when they need it." Ray Scully, another youth in the group felt that "studying together has helped me to understand more about the Bahá'í Writings."

This pattern of collective learning and action is what Bahá'ís are increasingly calling "accompaniment." The Nepean group was inspired by a series of important youth conferences called by the Universal House of Justice in 2013. In a message to participants, the Universal House of Justice wrote: "To follow a path of service, whatever form one's activity assumes, requires faith and tenacity. In this connection, the benefit of walking that path in the company of others is immense. Loving fellowship, mutual encouragement, and willingness to learn together are natural properties of any group of youth sincerely striving for the same ends, and should also characterize those essential relationships that bind together the components of society."

These characteristics are visible in communities across Ottawa and around the world. One local community member Jay Howden reflected on his recent visit with the group as a guest speaker. "I feel lucky to be able sometimes to hang around with the Bahá'í youth and their friends as they look to move the world. It's inspiring," he said. After studying Bahá'u'llah's Kitab-i-Aqdas with the youth group he was impressed with their eagerness and insights. "It's an amazing culture that is being created, in my neighbourhood and theirs and thousands of others across the globe. It's hope, in small but mighty packages!"