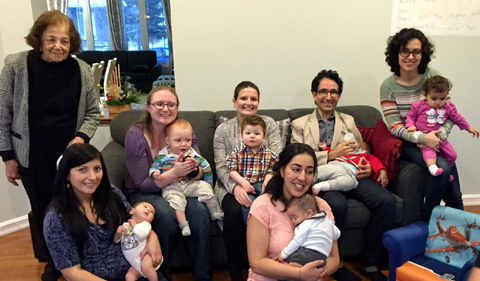 Abdu'l-Bahá, the son of Bahá'u'lláh and His appointed successor, said that there is nothing sweeter in the world of existence than prayer." How much sweeter can it get, then, when reciting prayers with precious little babies?

Over a year ago, two moms started a Facebook group with the intent of getting together with other new moms to say prayers and socialize. This group was called the Ottawa Baby Devotional and it brought new and not-so-new moms together from different Ottawa neighbourhoods. Prayers, writings, songs and stories were read for the little ones' spiritual growth. Participant Jaleh Safaee said "We developed friendships and a sense of community with the parents, and the little ones had an opportunity to see and play with their friends. These devotional gatherings were open to everyone, regardless of religion, and we lovingly encouraged other friends to join in and host one in their own home, particularly since the first year of maternity/paternity leave provided time during the day for new parents to get together."

With the addition of a sweet little girl to one family, a mom who attended these gatherings decided to host a devotional in her own home on a regular basis. This same kind-hearted mom, however, sadly passed away from a sudden illness this past November. As a way to honour her dear soul, two friends met up for coffee and decided to continue her initiative. *
On the second Saturday afternoon of each month, mothers, fathers and babies under the age of two gather together to say prayers, sing songs, create a spiritual atmosphere, build bonds of friendship and support one another. Although the little ones are still too young to verbalize the words of the prayers, they are learning to say "O God, guide me, protect me, make of me a shining lamp and a brilliant star. Thou art the mighty and the Powerful" through hand motions and actions. In addition to the spiritual nourishment provided, these little ones are learning to develop the quality of reverence, respect, peacefulness and prayerfulness. Each month, the prayers and writings are focused on a specific quality such as friendliness, love, joy and gentleness, among others. This gathering takes place in Kanata, and on average there are anywhere from six to14 people in attendance.



Throughout Ottawa, moms are hosting either regular or irregular gatherings as a means of coming together in a spirit of devotion, fellowship and joy. Baby devotional gatherings range from prayers at home to prayers in the park and even playgroup outings to the Farm.



* Nousha Ram is warmly remembered as one of the organizers and a host of the baby devotional gathering with her husband Vargha.