June 28, 2016
Strengthening the Spiritual and Social Fabric of the Community through Home Visits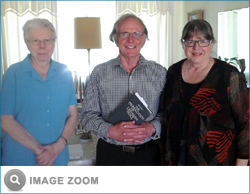 Recently, on a beautiful Thursday afternoon, Sandy Brown and Helen Andrews visited a friend who lives at the Starwood Extendicare facility in Ottawa. The three friends shared some prayers together and spent time chatting and reflecting in the beautiful gardens attached to the residence.

"It was wonderful to spend some time with old friends, catching up and saying prayers together," said Sandy. "It made us all feel more connected and joyful." Helen enjoyed this "home visit" because it left all of them "with a happy and full heart." She noted that it was especially nice to visit friends who are unable to attend community events due to illness or disability.

This practice has been weaving its way into Baha'i community life in recent years. In December 2005, the international governing body of the Baha'i Faith released a statement calling for Baha'is around the world to visit each other's homes to reinforce the "ties of fellowship that bind the members of the community together." These simple "home visits" are "a means for exposing believers to the fundamentals of the Faith" through prayer and collective study of the Bahai Writings. In this way, the letter explained, "as the spiritual foundations of the community are fortified... the level of collective discourse is raised, social relations among the friends take on new meaning, and a sense of common purpose inspires their interactions."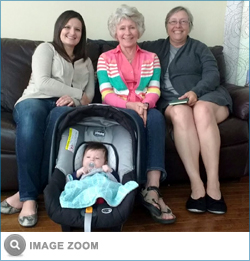 Sometimes, home visits are conducted to study a specific message that has been highlighted by the Spiritual Assembly. Often however, the visits focus on the events unfolding in the lives of those being visitied, using the study of the sacred Writings and prayers to ease their difficulties and help restore their hope and sense of belonging in a nurturing and active community. Home visits can take place in someone's home or in another place such as a coffee shop, depending on the circumstances. Respect for individual needs and differences is paramount as is creating an atmosphere of spirituality, hospitality and friendship.

Over the past few years, many members of the Baha'i community in Ottawa have been learning how best to conduct home visits in their neighbourhoods. Through action, reflection, and practice, skills have been honed and the many benefits of conducting home visits have become apparent. Home visits have been shown to improve the quality of community worship, have forged ties of friendship and spiritual kinship and strengthened the social network of the community. Through home visits young and old, new and veteran believers, and friends of the Baha' i community work together to increase the devotional character of the community and raise capacity in each other for action.