Episode 2
June 23, 2021


The Steed of High Endeavour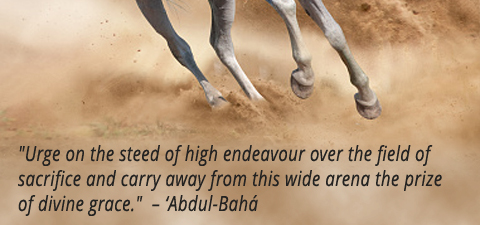 In January 1853, still suffering from the damaging effects of His imprisonment, Bahá'u'lláh, His family – minus five-year-old Mírzá Mihdí, who was ill at the time – and about 70 Bábís who joined in His banishment, crossed the Zagros Mountains into Iraq during a bitterly cold winter. Ill-equipped either in dress or adequate means of transportation, they suffered untold privations before they reached Baghdad, then a part of the Ottoman Empire, three months later. Nine-year-old Abbás Effendi suffered frostbite and many decades later, His sister Bahíyyih Khanum could barely speak about their horrendous ordeal.

Although Bahá'u'lláh had many enemies among government officials and the clerical class, His greatest suffering was to come at the hands of His own younger half-brother, Mírzá Yahyá, who joined the group in Kírmanshah near the Kurdish border. Ever protected by Bahá'u'lláh, he was cowardly, duplicitous and given to travel and to live in various disguises out of a great fear of being recognized as a Bábí. He shadowed the band of followers, arriving in Baghdad some two months later than Bahá'u'lláh.

Mírzá Yahyá, who, with the Báb's approval, had been named as the figurehead of the Bábís in order to draw attention away from Bahá'u'lláh, wasted no time in creating dissension and strife among the rudderless and disillusioned Bábís. With the aid of Siyyid Muhammad Isfahání, named the Anti-Christ of the Bahá'í dispensation, who constantly stoked the fire of Mírzá Yahyá's jealousy for his brother whose leadership and spiritual superiority were so evident, they spread lies and slander about Bahá'u'lláh, prompting Him to banish Himself to the mountains of Sulaymaniyah as of April 1854 for two years, stating: "The one object of Our retirement was to avoid becoming a subject of discord among the faithful, a source of disturbance unto Our companions, the means of injury to any soul, or the cause of sorrow to any heart."

Now living as an undesired guest in Bahá'u'lláh's house, Mírzá Yahyá held his nephew's heartbroken family hostage to his fear and paranoia while he plotted his machinations and shameful actions. During that time, Abbás Effendi was educated by His mother and faithful uncle Mírzá Músá, who encouraged Him to memorize and meditate on the Writings of the Báb. By the age of 12, Abbás Effendi could discuss theological matters among the Baghdadi divines, impressing all with His great intellectual and spiritual gifts.
When Bahá'u'lláh finally returned, to the great happiness and relief of His family and followers – restoring order and gradually rehabilitating the good reputation of the Bábí community – Mírzá Yahyá melted away among the shadows while Bahá'u'lláh's star shone ever so brightly in Baghdad and beyond. Abbás Effendi, intuiting His father's great station, perfectly reflected the noble qualities of His father. While still a teenager, He wrote extraordinarily profound and superbly written theological essays that were great achievements for one so young. It was at this time that Bahá'u'lláh named His son Sirru'llah, the Mystery of God.

Abbás Effendi grew into a handsome generous and kind young man and was known as a great horseman, no doubt exhilarated by the rare moments of freedom He experienced as His horse competed with the wind. In 1860, beloved little brother Mírzá Mihdí finally rejoined His family.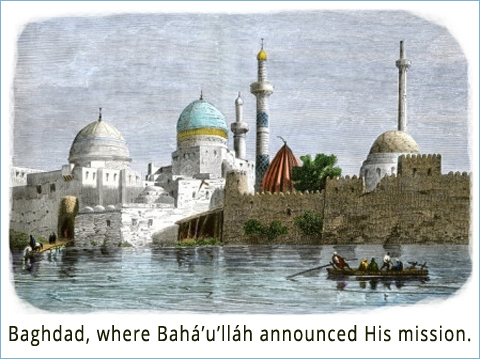 However, storm clouds from Persia began to gather once more above the life of Bahá'u'lláh and His growing community. Determined to have Him banished even further, Bahá'u'lláh was summoned to Constantinople, and from there the Sultan of Turkey, at the instigation of the Persian government, exiled Him and His family in 1863 in the middle of winter to Adrianople (Edirne) in Turkey. Before leaving Baghdad for Constantinople, however, Bahá'u'lláh announced His mission and station, in the Garden of Ridván, as the One Whom God Shall Make Manifest prophesied by the Báb, and the Promised One of all the ages.

Abbás Effendi, now 19 and serving as His Father's secretary and support, spared no effort in making the difficult trip to Adrianople as comfortable as possible, often riding ahead on His steed to make sure accommodations and food were available upon their arrival at each stop, often neglecting His own needs.

Once the community settled, Mírzá Yahyá again stepped out of the shadows, this time by plotting Bahá'u'lláh's death. He succeeded in poisoning Bahá'u'lláh himself, but though gravely ill, it did not kill Him. He suffered its after-effects for the rest of His life.

After five years of endless scheming and misrepresentations on the part of Mírzá Yahyá and Siyyid Muhammad Isfahání, in 1868 the Ottoman government, irritated by all these intrigues, condemned Bahá'u'lláh, His family and followers, including Siyyid Muhammad Isfahání, to the worst prison in the Ottoman Empire, the dreaded prison-city of Akká in Syria, now part of Israel. Mírzá Yahyá and several others were sent to Famagusta, Cyprus, where they lived out the rest of their lives.