June 23, 2017
The Continuing Persecution of the Bahá'ís in Iran

Ottawa Bahá'ís reflect on the resilience of family members in face of ongoing persecution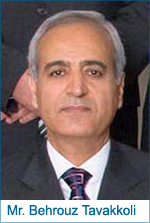 At age 66, Behrouz Tavakkoli is entering his 10th year in prison in Iran. His crime: helping to administer the affairs of the Bahá'í Community of Iran. Suffering from severe kidney and joint problems, he and the other six leaders of the Bahá'í Community face another year in prison. They are among 93 Bahá'ís who are currently in prison solely because they are Bahá'ís. In Iran, the rest of the Bahá'í community faces constant difficulties. Since the 1979 revolution they have been systematically persecuted in every facet of their lives. They are denied government jobs, private sector employers are pressured to fire them, their shops are closed, their cemeteries are destroyed and their properties are seized. Bahá'í youth are denied access to university or college, and Bahá'ís are constantly bombarded by anti-Bahá'í propaganda in the media.


Behrouz's son, Naim Tavakkoli, lives here in Ottawa. He describes how his father was a social worker who worked in rehabilitation centres with clients who had physically and mentally disabilities. It was a job he loved, but following the 1979 revolution he was let go and then worked as a carpenter to support his wife and two sons. His main goal then became service to the Bahá'í community. He was later chosen to be one of seven leaders responsible for the administration of the affairs of the Bahá'í community in Iran. He was arrested briefly in 2005 and after four months in solitary confinement, he developed serious kidney and joint problems. Upon his release from prison, he continued to serve the community. Naim explained that "when it comes to serving the Faith," his father "fears nothing, absolutely nothing." He was arrested again in 2008, and the last time that Naim saw his father he was in prison and could hardly walk, dragging his leg behind him. His son characterized his father as "an ordinary person, called upon to do extraordinary things."


Ottawa Bahá'í Parvaneh Vafaie was a nine year old girl in Iran when her father Rahman-Vafaie-Saadi was arrested in the middle of the night. He was in prison for two years that first time. She remember one time when she visited her father in prison, he made a victory sign and she saw the guards kick him and hit him hard on the back and on his leg. After being released, he continued to work actively for the community, providing marriage counselling, holding Bahá'í study groups, hosting youth gatherings in his home and talking about the Faith to anyone who showed any interest. He was arrested two more times, held for brief periods and then, in 2012, he was imprisoned for two years.

Parveneh explained that today her mother and father are not sure when they might be arrested again. People are always watching them, monitoring who is coming or going in their house. However, she explained that people like her father, because they are working for Bahá'u'lláh, are happy no matter how much suffering they undergo. And for their families it is the same; in the face of persecution they feel happy and proud to be Bahá'ís.