Episode 1
June 4, 2021


A Handful of Flour


The nine-year boy with the large, luminous eyes and angelic face stood hiding in the doorway of a house, waiting for the street children who had been chasing and throwing rocks at him – all the while calling Him a Bábí – to disperse so that he could return home from His aunt's place with a coin wrapped in a handkerchief to help stave off the family's utter destitution. Trembling, He decided to wait until nightfall before venturing out. But these boys also waited for Him to emerge and once again chased and pelted Him with stones. Abbás Effendi, who had barely survived tuberculosis not long before, finally returned home in total exhaustion. When His mother, deeply concerned, asked Him what happened, He simply collapsed.

On the night of May 23, 1844, while Ásíyih Khanum was struggling to birth her firstborn son, Abbás Effendi, into the material world in Tehran, Persia, the spiritual worlds of God were lit with portent and joy as the Báb's revelation was being poured – a dazzling, unimaginable gift – into Mullá Husayn's soul in the upper chamber of the Báb's home in Shíraz. The juxtaposition of both Abbás Effendi's birth and the unfoldment of the Báb's revelation would endow Ásíyih Khanum's and her husband's – Mírzá Husayn-'Alí Buzurg – son with a crystalline pure soul unmatched in humanity so far.

Born into wealth and privilege, until the age of seven Abbás Effendi lived in a coddled world of joy and plenty. His father, although of the noble class and the owner of several estates, was famous for His unfathomable wisdom and care for the destitute and was known as the Father of the Poor, a mantle Abbás Effendi wore throughout His adult life as well. When the Báb announced His revelation the fateful night of Abbas Effendi's birth, among so many others as the Bábí religion spread, Mírzá Husayn-'Alí wasted no time in accepting the Bábí Faith and its founder. When the Conference of Badasht took place in Mazíndarán in 1848, at which the independent character of the Bábí Faith was affirmed, Mírzá Husayn 'Alí took the name of Bahá'u'lláh, meaning the Glory of God, and was perceived as its de facto spiritual leader in the absence of the Báb, who was shunted from one prison to the next for the remainder of His short life.
By embracing this newest religion, Bahá'u'lláh and his family faced new dangers as the Bábí Faith met with violent opposition from the Sháh, the government and the Muslim clerics, which ultimately led to the execution of the Báb on July 9, 1850. Two years later, two Bábís, still reeling from the death of the Báb and against all counsel by Bahá'u'lláh, attempted to kill the Sháh with buckshot, unleashing a brutal conflagration of persecution and death on the Bábí community. Bahá'u'lláh was imprisoned in the infamous Síyáh Chál, known as the Black pit, along with many other Bábís. These Bábís would chant prayers so fervently and loudly that the Sháh himself heard them from within his palace. Many were executed in inhumane ways for their beliefs. Bahá'u'lláh spent four months in that loathsome subterranean prison, weighed down by unbearably heavy chains and breathing in fetid and rancid air that undermined His health. It was nevertheless in the Síyáh Chál that Bahá'u'lláh received the first intimations of His own greater revelation as a Prophet of God.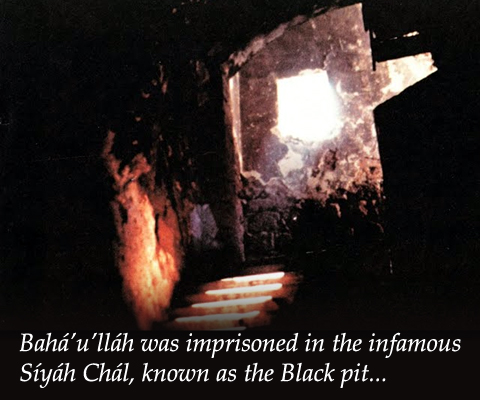 The little boy wished to visit His father in prison and although Bahá'u'lláh would not permit His son to descend to His cell, Abbás Effendi did see His father in the prison yard, weighed down by heavy chains, His body wracked with suffering.

It was difficult for Asíyih – now named Navváb (Highness) by Bahá'u'lláh – and her three children, Abbás Effendi, His sister, Bahíyyih Khanum, and little brother, Mírzá Mihdí to find lodging and food. Their homes and means of subsistence had been taken away from them and sometimes all that she could give her children to eat was a handful of flour. They moved from lodging to lodging in their search for a means to escape persecution.

Abbás Effendi was continually hounded, and once His mother came upon the scene of her son standing proud and firm while He was surrounded by ill-wishing boys taunting Him for being a Bábí. The boy was telling His tormentors not to molest Him, and strangely, they found they couldn't.

After four months, due to the intercession of the Russian Ambassador, who held Bahá'u'lláh in great esteem, He was released, but He and His family were forever exiled from Persia. So began their arduous and perilous journey through Iraq, which led Bahá'u'lláh, His family and many believers to the city of Baghdad, not without great suffering in the process.