May 27 2012


Singer/Songwriter MJ Cyr in Ottawa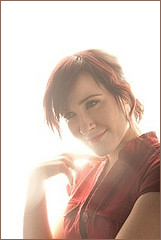 On May 12, over 60 people gathered at the Ottawa Baha'i Centre on 211 McArthur Rd. for a special devotional concert by Toronto singer/songwriter MJ Cyr.

Ottawa was MJ's first stop in her Eastern Canada tour promoting her devotional album "Canopy". The album is a collection of sacred texts from the Baha'i writings put to music. It re-defines the traditional notion of devotional music with genres such as folk, jazz, country and even electronica. For a full review of "Canopy" see.

Here



MJ was joined onstage by Marie Claire Saindon and Alden Penner from the Montreal-based band "The Hidden Words". They performed two of their own songs as an opening act and then added to MJ's performance by providing backup vocals, violin, percussion and harmonica. Their contribution was especially felt in the song "The Watchman", a song with words taken from The Seven Valleys – a highly poetic, mystical composition written by Baha'u'llah, the founder of the Baha'i Faith. Other songs that greatly impacted the audience included "Innocent in Heart", "Tender Plant" and "Fortress".

It was an unforgettable night that not only enchanted the ear but uplifted the soul.

"Canopy" is available on iTunes and through MJ's website www.mjcyr.com.