April 15, 2016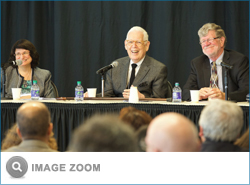 "You will be scattered like gems across the country." Mina Sanaee recalled Douglas Martin delivering this message to the Baha'i refugees in Pakistan when he visited them in the early 1980s. Mr Martin was the Secretary of the National Spiritual Assembly of the Baha'is of Canada at that time and Canada was the first country to open its doors to Baha'i refugees fleeing violent persecution in Iran. "Each Baha'i [who left Iran] faced a supremely painful decision [to leave] after patiently enduring daily acts of violence and injustice.... We were dispirited," Ms Sanaee said, but "he encouraged us with this message."

On September 21st, Ms. Sanaee, Mr. Martin and others gathered at Carleton University to participate in a a one­day Symposium on the Iranian Baha'i Refugee Movement to Canada, 1981­1989. About 100 people attended the event, including academics, civil servants, students, and community members. The conference was sponsored by the Baha'i Community of Canada, the Canadian Immigration Historical Society, and Carleton University's Centre for Public History, Migration and Diaspora Studies Initiative, and Carleton University's Department of History.

Prof Howard Adelman, a leading scholar in refugee studies, observed that the Baha'i community in Iran was targeted because they "reflect the spirit of modernity in their universalism". Eventually, some 2,300 Baha'is would come to Canada as part of a special program designed by the Government of Canada during the 1980s, in cooperation with the National Spiritual Assembly.

Gerry Van Kessel, who was Director­General of Refugees in the 1980s, commented that his work on the Baha'i program had been a "career highlight". When Douglas Martin approached the government for their assistance, there was an existing structure to facilitate the settlement of Baha'is from Iran. However, Van Kessel observed that what made the program work was the "trust and credibility" developed between Baha'i representatives and public servants. "That's how you get cooperation... and your credibility with us made this work."

Participants in the conference also heard from the perspective of refugees and civil servants in the field. Mark Davidson, now Director­General at Citizenship and Immigration Canada, was on his first posting to Islamabad, and he recalled being astounded by the remote locations to which Baha'is were resettled. More than 100 local communities as far away as Sandspit, BC, were sponsoring Baha'is. Afsoon Houshidari was four years old when her family fled Iran, and she shared her personal anecdotes and recollections of waiting for resettlement in Karachi and the excitement of preparing for departure to come to Canada. She only recently discovered that her family's visas were signed by her co­panelist, Dennis Scown.

The symposium heard about different experiences of Baha'is who came to Canada at that time, as well as from the perspective of community members who welcomed the arrival of the refugees. Panelists commented that the each experience was unique, and many of them involved trauma and great difficulty. Their resilience was often strengthened by their Baha'i beliefs and the unique cross­cultural connections made with their co­religionists and other Canadians.

For more information, see the article on the Baha'i World Service News. Additional pictures and notes have been posted on the website of the Carleton University Campus Association for Baha'i Studies.

The symposium website now contains videos of the full proceedings.