May 13, 2013
Lloyd Axworthy, Bani Dugal and Canada's press mark the fifth anniversary of the incarceration of Iran's Baha'i leaders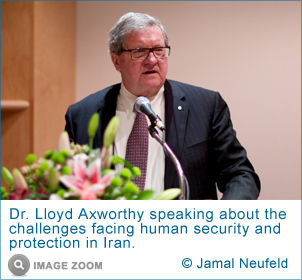 "You are not alone. There is a unity. There are others who feel the same sense of outrage," said Dr. Lloyd Axworthy, former Canadian Minister of Foreign Affairs and current President of the University of Winnipeg, speaking at a public meeting in Toronto on 9 May. His talk was part of the worldwide campaign, "Five Years Too Many," demanding the release of the seven Baha'i leaders in Iran and calling attention to the increase of human rights violations in that country.

"Nuclear weapons is a threat; the suppression of human rights is a reality," Axworthy noted. He went on to speak about the importance of the world's response to the challenge of human security and protection. "I heard a Baha'i, Dr. Redwan Moqbel, say that, first, unity in spirit, second, collaboration and, third, giving attention to children and youth are crucial; and I agree these three points are essential if we are to try to change the world."

Bani Dugal, principal representative of the Baha'i International Community to the United Nations, and relatives of two of the seven leaders incarcerated in Iran — Naeim Tavakkoli, son of Behrouz Tavakkoli and Siavosh Khanjani, nephew of Jamaloddin Khanjani, also participated in the meeting.

Dugal summarized the history of the persecution of Baha'is, and the rejection by fundamentalist religious leaders and the Iranian regime of the progressive Baha'i principles. She then described the current situation and the details surrounding the travesty of a trial that led to the imprisonment of the seven Baha'i leaders. She also spoke of their resilience and courage.


The hundreds of people present were moved by the words from a poem of one of the Baha'i prisoners, and their behaviour — trying to serve others, being beacons of light, refusing to be victims even in the terrible conditions of prison. Dugal closed by identifying the challenge of prejudice and pointing out that eliminating and undoing the consequences of such prejudice spread by an unjust regime is the main challenge facing both Iran and the world today, not merely if the Baha'is are to be emancipated but if the evil of violence and hate directed at other minorities and Iranians, who simply want the best for their country, is to be overcome. This requires, as an essential human condition, freedom of conscience and belief.

Two of Canada's most prominent English-language newspapers drew attention to the challenge of educating the world about the persecution of Baha'is. The Globe and Mail published a commentary by Lloyd Axworthy on 9 May, and on 10 May the National Post printed an article written by Rob Joustra, an Assistant Professor of International Studies at Redeemer University College.