May 10 2012


Cleaning our environment

By Nathalie Thirlwall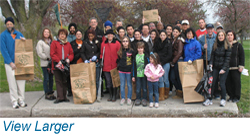 Over 50 people of five different faiths came together early evening on Wednesday, May 2, 2012 to clean up Mooney's Bay Park. "Spring Cleaning the Capital Together" is an annual initiative organized under the auspices of the Capital Regional Interfaith Council, of which the Ottawa Baha'i Community has been a member for many years. Baha'is have been involved in the park clean up since the start of this initiative. Recognizing that work is worship, if done in the spirit of service, enabled this year some 28 Baha'is of different ages to work shoulder to shoulder with people of a variety of faiths.

A youth from our community was invited to offer the opening prayer. She selected a prayer for unity by Baha'u'llah which starts:
"O my God! O my God! Unite the hearts of Thy servants, and reveal to them Thy great purpose. May they follow Thy commandments and abide in Thy law. …"

During this year's cleanup members of the following faiths were Sikh, Catholic, Islamic, Church of Jesus Christ of the Latter-day Saints and Baha'i, who collectively managed to fill up approximately 11 yard waste bags and 10 garbage bags. Individuals had the opportunity to work together, share light refreshments, get to know each other and speak about their beliefs. A feeling of friendship and solidarity filled the air as we learned to work together to make the park a cleaner environment.