April 27, 2021


In Search of International Justice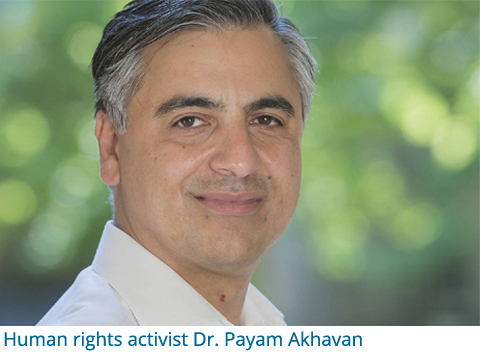 The 19th "Big Ideas" presentation was a series highlight. Speaker Dr. Payam Akhavan is a Canadian Bahá'í, a professor at the McGill and (currently) Toronto law schools. He has served widely as a human rights officer of the United Nations, and as a war-crimes prosecutor has appeared before the International Criminal Court and the United Nations' International Court of Justice. His "human rights odyssey" was told in the 2017 Massey Lectures, later published as the best-selling In Search of a Better World.

To an online audience of over 140, Dr. Akhavan spoke of "Justice for Genocide: Reflections on Human Rights and the World Court". He started with the end of the second World War: "In January 1945, Russian soldiers came across an industrial site in Poland..." They had stumbled across Auschwitz and the Holocaust. "Genocide" was then a newly coined word. In December 1948, the newly formed United Nations proclaimed its Universal Declaration of Human Rights. A day before, its Convention of Genocide declared, Never again. War crimes tribunals tried some of those responsible for the worst atrocities. This period was, according to Akhavan, "a window of hope" opening on a hard-won respect for human rights.

However, throughout the Cold War and beyond, "a cynical culture of privileging power over justice" saw numerous further genocides. The weaknesses of the United Nations have been obvious. Today we still have no true global governance to enforce accepted anti-genocide and human rights principles, but Dr. Akhavan asserted that there is substantial progress. The Berlin Wall fell in 1989. An American president called in 1991 for "a new world order" to replace that great power standoff.

Those familiar with the Bahá'í teachings were heartened. Bahá'u'lláh had taught not only the spiritual ideals of the oneness of humanity, but had prescribed mechanisms for global unity, including his 19th-century call to kings and rulers to establish a global commonwealth. Slowly, steps have been taken: an international Criminal Tribunal prosecuted a head of state after the Yugoslav Wars; the permanent International Criminal Court was formed in 1998, though it is hampered by the refusal of many key nations to ratify its authority. The will to create a world order is gradually growing, but we seem to need the unimaginable suffering of Rwanda or Darfur to fuel this progress.


Akhavan turned to the recent oppression of Myanmar's Muslim Rohingya minority. Thousands were killed, whole villages burned, and about one million refugees flooded into neighbouring Bangladesh. Half that number still live in the "ocean of misery" that is Kutupalong, the world's largest refugee camp. International power dynamics paralyzed genuine action, but "even against impossible odds, one should keep working to find justice in the name of a new world order", said Akhavan. Since the U.N.'s International Court of Justice, established in 1946 in the Netherlands, can only deal with cases brought to it by a member state, Akhavan and his colleagues desperately sought a government willing to take on the Rohingya cause.

The Gambia, a small west African nation, accepted the responsibility. Three representatives from the Kutupalong camp made their first-ever plane flight to appear before ICJ judges in the storied Peace Palace in the Hague. Speaking in defence of Myanmar, amazingly, was its famous leader, Aung San Suu Kyi, but the Court returned, in January of 2020, a unanimous judgement in favour of the Rohingya. "We feel human!" one of the Kutupalong witnesses exclaimed to Akhavan when they met later. Although the International Court of Justice has no enforcement capacity, he asserted that this decision has saved many lives; the nature of the modern world means that all governments want to "at least appear to be in conformity with established norms of human rights". An example has been set. Canada and the Netherlands will soon be speaking for victims of Syrian civil strife before the ICJ.

"We underestimate the power of our choices," Akhavan concluded. "We have a responsibility to become engaged with injustices across the world," be they large or local. Bahá'u'lláh's vision of a world united by the application of justice, he said, compels us to hold fast to belief in and action towards realizing the oneness of humanity. "Soft power is not as soft as we think it is."