April 21, 2013
This past month, the Ottawa Bahá'í community celebrated their most important festival of the year, the Twelve Days of Ridvan (pronounced Riz-wan). Each spring, between April 21st and May 2nd, Bahá'ís around the world commemorate the period of twelve days that Bahá'u'llah passed in a garden in Baghdad before he and his family were sent into exile.

Ottawa's celebration of the first day of Ridvan, this past April 21st, featured a program of music, prayers, food and social time. It also included a dramatic story-telling of the events surrounding Bahá'u'llah's time in the Ridvan Garden.

"I really enjoyed the artistic portion of the program," said Jane LeFeuvre, one of the MCs for the event. "Especially since it featured young musicians from our community. And although there were hundreds of us there it felt like an intimate gathering of friends."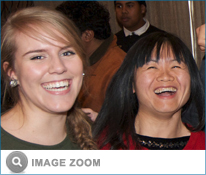 Community members had also gathered the previous evening to elect the Local Spiritual Assembly of the Bahá'ís of Ottawa. Unlike many other religions, Bahá'ís do not have clergy and elect assemblies to administer local affairs. Each Bahá'í can vote for nine individuals in the community to serve a one year term on the Assembly.

Despite the fact that there are about a thousand Bahá'ís in Ottawa, the election was held without a list of candidates, without nominations and with no campaigning. It is a spiritual duty of each voter to get to know their fellow community members throughout the year. At election time, the ballot asks voters to write in the names of nine adult Bahá'ís who they believe possess the qualities to serve on the Assembly.

Voting results were announced publicly the next day at the annual meeting that preceded the celebration described above. Celebrations of other days during the Ridvan Festival took place in various neighbourhoods across the city until May 2nd.