April 16, 2021


The River Walk Devotional Endures Despite the Pandemic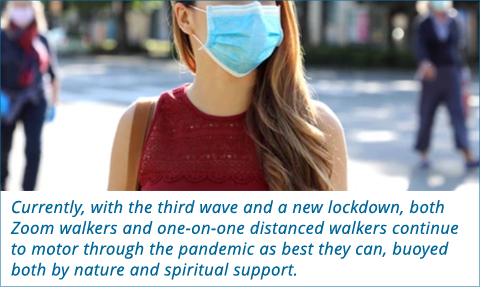 Back in 2016, Allison Wood and Wendy James, who both live in different neighbourhoods, began a River Walk Devotional that united two communities with the aim of blending both physical exercise in a beautiful setting and spiritual reflection. In other words, it was created by community for community. The path taken would stretch from Sandy Hill to Vanier and vice versa. Thus began an organic process that evolved into walk in which all walkers consulted on a reflection topic that was then supported by quotes, stories and prayers about virtues. A bond of love and friendship quickly developed during these walks, which were undertaken regardless of the weather. Of the overall 30 participants, there was always a core group of 15 walkers who joined in.
It wasn't long before walkers turned to each other for advice and support in the many aspects of their lives, with many a deep discussion undertaken on the trail. As of April 2017, some of the regular participants decided to participate in educational courses from the Ruhi Institute in small study groups, which focuses on spiritual themes including building individual capacity for service. They started with Ruhi Book 1, a study on prayer and life after death. This was followed by Ruhi Book 2, which explores what it means to pursue a path of service. Later, some members of the group studied Ruhi Book 4, in person, on the life history of the Báb and Bahá'u'lláh, while others participated in a study of Ruhi Book 13.1 via Zoom on the theme of engaging in social action."

However, the outbreak of the Covid pandemic in early 2020 put an end to in-home Ruhi classes, but thankfully not the walks. Walkers are a zealous group who need to be outside stretching their legs in all kinds of weather and conditions, and yes, even during a pandemic. At the onset of Covid, they continued to walk as a group with masks and physical distancing, then returned for devotions in the backyard.

When the city went into lockdown for the second wave, the walking devotional evolved into Zoom Walkers in which everyone connected once a week for a PowerPoint presentation of their favourite nature shots taken during solo walks, supported by holy writings, prayers and poems. Given that everything else was happening on Zoom as well, it wasn't long before the real keeners opted for one-on-one walks with masks and physical distancing as well as prayers by the river. Currently, with the third wave and a new lockdown, both Zoom walkers and one-on-one distanced walkers continue to motor through the pandemic as best they can, buoyed both by nature and spiritual support.