April 7, 2022


The Ottawa Bahá'í Community's Involvement in the Capital Region Interfaith Council
by David Oke
They that are endued with sincerity and faithfulness should associate with all the peoples and kindreds of the earth with joy and radiance, inasmuch as consorting with people hath promoted and will continue to promote unity and concord, which in turn are conducive to the maintenance of order in the world and to the regeneration of nations. Blessed are such as hold fast to the cord of kindliness and tender mercy and are free from animosity and hatred.
— Bahá'u'lláh



The Capital Region Interfaith Council (CRIC) has existed in Ottawa for 25 years as a non-profit organization to promote interfaith understanding and harmony. Its mission is to enhance the awareness of the existence in Ottawa of its many faith traditions and to encourage the development of a living and dynamic expression of Ottawa's pluralistic spiritual community. Through its various efforts, the CRIC has been able to assist society to recognize the role that religion can play in creating a peaceful global world and in combating religious intolerance.

CRIC's objectives include providing a forum for dialogue among the faith communities to enhance mutual understanding; fostering action on common interests and concerns; developing respect for and understanding of religious practices of all faiths; acting as a referral resource for matters related to religious issues; supporting and developing interfaith activities, including work for peace, justice, and care for the planet earth; and finally, developing ways and means to fulfill our mission.



The Ottawa Bahá'í Community has been continuously represented in the CRIC since 2000.



The faith communities represented by members of CRIC have varied since its inception. Currently, these include Islam, Judaism, Sikhism, the Ahmaddiya Community, the Roman Catholic Church, Hinduism, the Anglican Church, Buddhism, Christian Science, the Church of Jesus Christ of Latter-Day Saints, Falun Dafa. the Family Federation for World Peace & Unification, First Nations, Jainism, Unitarian Universalist, and of course, the Bahá'í Faith. Each faith community and their representatives have an equal voice and equal respect in CRIC.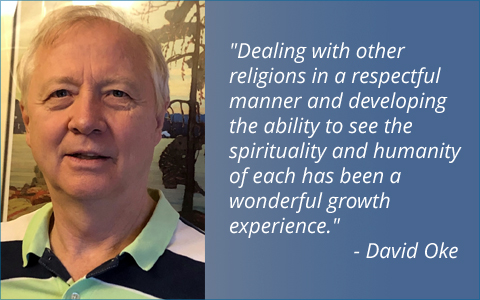 Over the past 25 years, the number of faiths represented in the CRIC has remained fairly stable, with some communities leaving and other faith communities joining. It's difficult to assess the impact of the CRIC on Ottawa and its broader faith communities since it's hard to know how much of its work goes beyond its representatives. Still, increasing the involvement of younger people in interfaith activities is one issue that the CRIC is deeply concerned about.

Every year, the Capital Region Interfaith Council sponsors such as, which include the Joy of Faith musical concert every June, which includes the musical traditions of Ottawa's faith communities; the Spring Clean-up of Ottawa parks in May; Mother's Day Food Drive for Ottawa food banks; an Interfaith Prayer Service each year in October; and one-off activities.

The Ottawa Bahá'í Community has been continuously represented in the CRIC since 2000. Throughout its involvement as a member of the CRIC, Bahá'í representatives have played key roles in its functioning and held various positions in the CRIC Executive Committee, including as Secretary and Treasurer. The various members of the CRIC have demonstrated a considerable level of unity among its members, which is a testament to its mission. At almost every meeting, the item "I and My Faith" is included in which each faith representative presents their religious teachings on a specific topic such as climate change or abolishing racial prejudice.

I've found my time on CRIC to be very meaningful. The contacts one makes with other faith communities and Ottawa's indigenous community can be very valuable. Dealing with other religions in a respectful manner and developing the ability to see the spirituality and humanity of each has been a wonderful growth experience. This has also given me the opportunity to demonstrate Bahá'í teachings to the broader Ottawa community. I have found that whenever we've gone out into the community, the Faith has been well received and has allowed the Bahá'í community to practice what it preaches – the promotion of unity and harmony among various faith communities. It also allows us to make an important contribution to the City of Ottawa and its citizens and to be of service to the broader community.