April 5, 2021


The Spirit (Still) Lives: A Resurgence of the Human Spirit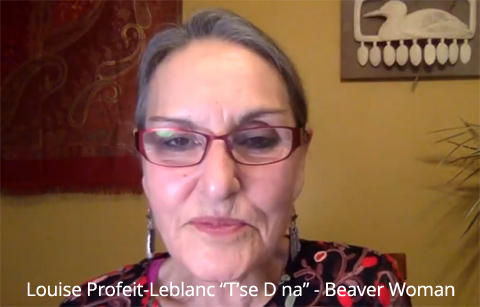 As part of the Big Ideas series, Louise Profeit-LeBlanc – a member of the Na-Cho Nyak Dun First Nation from Mayo, Yukon, captivated us with her stories on how she became a Bahá'í, with the soul-deep Indigenous connection with both the land and the Creator, and more importantly the role which she thinks Indigenous peoples are responsible for in greater measure, in bringing about the oneness of humanity in answer to 'Abdu'l-Bahá's
Tablets of the Divine Plan
. (a series of 14 letters written to the Bahá'ís of the U.S. and Canada between March 1916 and March 1917).
Louise has had a varied and rich career – she was involved in Yukon Land Claims Negotiations; assisted in establishing a "Suicide Prevention Program" for Indigenous peoples along with her colleagues, at Yukon Mental Health Services; served as the Native Heritage Advisor for the Yukon Government Heritage and from 2002 to 2013 worked in the Aboriginal Arts Secretariat at the Canada Council for the development of Indigenous Arts programming across Canada.

When Louise was 11 and the world was gripped in a Cold War, her beloved grandmother warned her before her passing that year that the old world would soon disappear and be replaced by a new world, under which all humanity would be under the same tent, led by two medicine men, one more powerful than the other. Of course, Bahá'ís who were listening knew without a doubt that these two men were the Báb (1819-1851), the Herald of the Bahá'í Faith and Bahá'u'lláh (1817-1892), its founder.

Having promised her grandmother to keep religion a priority in her life, Louise proceeded to attend Sunday schools – Catholic, Baptist and Anglican, each of which offered her something. By memorizing the titles of all the books in the Bible, Louise was able to bring one home as a reward – a Bible, something her mother could not afford. But it was when she found the runaway dog of a Bahá'í family – the Lindstroms – and when bringing it back that she discovered that Shirley Lindstrom also offered Sunday classes. Since Louise's mother insisted that her children do a kind and helpful act for others every day, it was at their family dinner that she recounted the act of bringing the dog back to Shirley. It was at this Sunday school class that she learned that the Bahá'ís taught that there is only one God and one humanity. After hearing these tenets of the Faith, her mother permitted her to attend Shirley's Sunday class.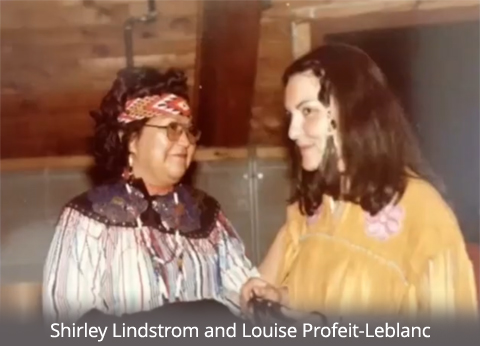 'Abdu'l-Bahá (1844-1921), the son of Bahá'u'lláh and Centre of the Covenant, the one whose luminous life, love for all humanity and utter humility all Bahá'ís try to emulate, looms large in Louise's stories, not only her own experiences but those of other Indigenous peoples. In speaking about Indigenous people, 'Abdu'l-Bahá had said "Should they be educated and properly guided in the divine teachings, they would illumine the world."

Around the time of the Iranian Revolution in 1979, some 200 Bahá'is were killed or executed and many more tortured and robbed of their human and religious rights, which still continues to this day. Louise recounts that at that time many Indigenous people had dreams or visions of 'Abdu'l-Bahá, confirming just how receptive and profoundly attuned they were to both the natural and spiritual worlds. One such story was about Inuit hunter Joe Niego and his friend, who got caught in a blizzard and were forced to make a snow house for shelter. When they finally emerged, both earth and sky were white and impossible to see what direction to take. Joe saw a bearded man on the horizon all dressed in white who was pointing to their way home.

Indigenous peoples have likewise suffered greatly since Europeans first settled North America, and here in Canada, the devastating effects of the residential schools, the tragedy of missing and murdered Indigenous girls and women, the Idle No More movement and the results of the Truth and Reconciliation Commission are still at the forefront, but she believes that so too is an Indigenous renaissance where Indigenous people are taking their rightful place in literally all walks of life.

In 1972, in honour of the Bahá'í Unity Conference held in Ganado, Arizona and attended by many Indigenous peoples, the House of Justice offered these words: Now awakened to new wisdom, now guided to the straight path, now illumined with this mighty message, strive you day and night to guide and assist the thirsty ones in all lands to the ever-flowing fountain, the wandering ones to this fortress of certainty, the ignorant ones to the source of knowledge, and the seekers to that One for whom their hearts long.`

Louise's challenge was for all of us to "each one, teach one" throughout this special year which marks the Centenary of Abdu'l-Bahá's passing. She ended by encouraging each of us to try and connect with Indigenous people to learn from them so that when they embrace the Faith, they in turn can share the Message of Bahá'u'lláh with all of humanity.