March 11, 2021
The Creative Process — a Tool for Individual and Collective Transformation
Art has a message for us. It says: care, grow, develop, adapt, overcome, nurture, protect, foster, cherish. It says: your reality is spiritual. It says: achieve your full humanness. It invites us to laugh, reflect, cry, strive, persevere. It says rejoice! Above all, it says to us: be! We cannot turn our backs on art. Art heals….
- Roger White, from Bring Chocolate: Advice from a Poet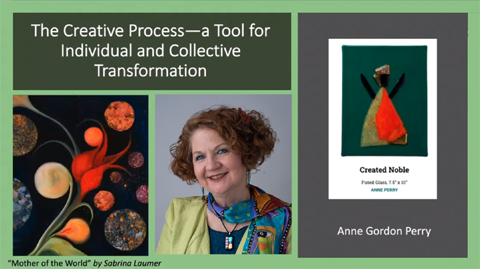 In the Big Ideas talk given by arts and humanities professor, writer and self-professed dabbler in the arts on December 18, 2020, Anne Gordon Perry tackled the intangible nature of creativity by both regaling our senses with tangible and beautiful examples drawn from her students, artists (including her own work) and community arts initiatives, while inspiring our spirits with thoughtful quotes drawn from the Bahá'í writings, from author-teacher Julia Cameron (from her book The Artist's Way), and of course, from Bahá'í poet Roger White. To set the mood for Anne's talk, Joyce Litoff played a rousing French-Canadian ballad, Vive l'amour, on her accordion.

Anne asked a lot of questions: Where do creativity and inspiration come from? What happens when we actualize our talents, harness our imaginations, and share with others the fruits of our creativity? How will cultivating our interest in and love for the arts contribute to changes in society and our own engagement with public discourse? What can we learn about resilience, transformation and adaptation as we look at arts created during the pandemic? How can we restore a sense of reverence in the world through the arts?

In answering these questions, where else would a talk on creativity and inspiration begin than with the Creator of all that is, visible and invisible: "Every created thing is but a door leading unto His knowledge, a sign of his sovereignty, a revelation of His name, a symbol of His majesty, a token of His power, a means of admittance into His straight path…" According to author/teacher Julia Cameron, we too must not only create but give back to God what God has given us. Anne gave examples taken from all the arts – literature, drama, music and theatre with a strong emphasis in the visual arts, the easiest way to showcase artistic output in less than an hour. She presented an astonishing number of individual and community projects of all types, including tableaux vivants drawn from famous paintings enacted by Anne's students designed to bring out their creativity and imagination, logo design and staircase art from around the world.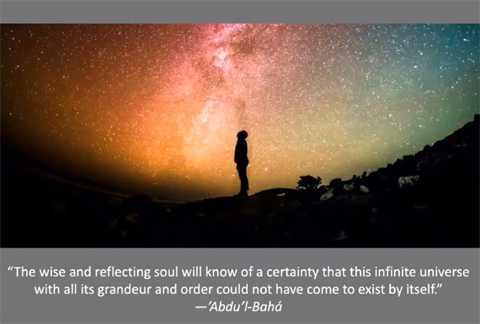 In terms of the artist's capacity to bring about engagement in public discourse even during a pandemic, the artwork that flourished and continues to do so worldwide following the death of George Floyd attests to both universal outrage and a desire to create a worldwide consciousness of our humanity regardless of colour and which fuels the movement that black lives do indeed matter. Another example is the Bahá'í-inspired project Changing the World, One Wall at a Time, which is a documentary feature film that is part of its Education Is Not A Crime project – one of the world's largest street art and human rights campaigns that raises awareness of education discrimination by Iran's government against tens of thousands of Bahá'ís.

The creative output spurred by the social consciousness of artists and interested peoples in the seminal issues of our day as well as the need to be creative despite loss of life, lockdowns, quarantines and isolation seems to have exploded over the internet as the pandemic rages on, a digital river that never stops flowing, from theatre to writers' groups, arts and craft classes as well as outdoor events in neighborhoods such as puppet shows, murals and public spaces that are adorned with colourful art and inspiring messages attesting that we are all one after all and that we are sharing our common humanity through a very difficult period.

Bahá'u'lláh, the founder of the Bahá'í Faith, unequivocally stated that Arts, crafts and the sciences uplift the world of being and are conducive to its exaltation. Although Anne Gordon Perry is involved in the regional, national and even international scene, she is but one of millions who are creating, supporting and imagining the arts, not only for the sake of the arts alone and the transformative messages they bring to the world, but as a means of helping humanity and its civilization advance both materially and spiritually in a beautiful way.

What will you create today?