February 28, 2018
Bahá'í Community Celebrates Ayyám-i-Há!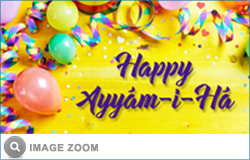 Ayyám-i-Há is a period of hospitality and gift-giving celebrated by Bahá'í communities throughout the world in individual homes and in larger gatherings.

On 25 February 2018, a group of 40 Bahá'ís in the North Nepean area, along with their friends held their annual Ayyám-i-Há celebration at the Nepean Sportplex. Over 40 people of all ages came out to celebrate this year's holiday theme of Singing in the Rain and mother nature certainly obliged by sending a downpour of freezing rain on the same day!

The celebration of Ayyám-i-Há, also known as The Intercalary Days, is a period of 4-5 days at the end of February that fall immediately before the Bahá'í month of Fasting. Bahá'u'lláh said of these days: It behoveth the people of Bahá, throughout these days, to provide good cheer for themselves, their kindred and, beyond them, the poor and needy, and with joy and exultation to hail and glorify their Lord, to sing His praise and magnify His Name; and when they end — these days of giving that precede the season of restraint — let them enter upon the Fast.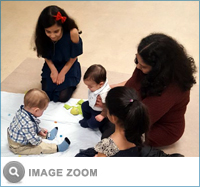 The room which hosted the celebration was decorated with cheerful spring-themed cut-outs: frogs, ducks, and umbrellas! The celebration began with a delicious potluck lunch, followed by Readings and Prayers about the significance and meaning of Ayyám-i-Há, the nature of the upcoming Fast and the theme of rain and sunshine in the Bahá'í Writings.

Joyful songs were then sung and games for all ages had the adults and children challenging each other amid great gales of laughter and exuberant cheering! Prizes were awarded throughout!

A large card wishing the Spiritual Assembly of the Bahá'ís of Ottawa a very Happy Ayyám-i-Há, and thanking them for their dedicated service throughout the year, was signed and decorated by the attendees. Also, in keeping with the spirit of Ayyám-i-Há "to provide good cheer for…. the poor and needy", $62.70 was raised for the Ottawa Food Bank at the event.

Following the games, participants relaxed over coffee and desserts and enjoyed each other's company and conversation before heading back out into the very non-spring like weather. All left in agreement that the celebration had refreshed and warmed their spirits and better prepared them for the month of Fasting ahead.

The North-Nepean Ayyám-i-Há celebration was one of more than 20 gatherings held across the City of Ottawa to mark the occasion. Many Bahá'í Children's Classes celebrated the occasion with programs, music and sharing of food.