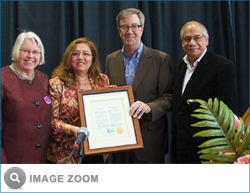 On January 17, 2016 Mayor Jim Watson warmly welcomed members of many of Ottawa's different faith communities who had gathered at City Hall to celebrate World Religion Day. "This is the best turnout we've ever seen for World Religion Day," the Mayor noted, to a crowd of approximately 250.
He characterized Ottawa's faith communities by their "many contributions and service to our community" which were well‐known and appreciated by city council, several members of which were also in attendance. The city's religious communities have always been quick to to "step up to the plate" for community issues, such as helping welcome refugees "to our country, to our city and to our neighbourhoods." This spirit of community service helped make Ottawa one of the most generous cities in the country in terms of volunteerism and charitable donations, he said. This
generosity was evident from "church to church, mosque to mosque and temple to temple across the city."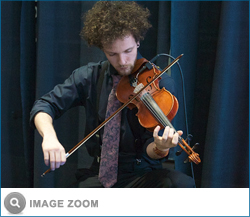 Mayor Watson thanked the Baha'i community of Ottawa for organizing World Religion Day and before making the official declaration, reminded everyone that the purpose of the event was "to unite everyone, no matter what their faith or origin and shows us that there are common foundations of all religions." World Religion Day, said Mayor Watson, "promotes harmony, mutual understanding and respect amongst all people of faith and it sends the message that we can work together to create a better world"
This year's program reflected on on shared values of service and building bridges between people, especially during times of conflict, prejudice and strife. The program featured many musical presentations from different traditions, and was closed by the Baha'i children's choir.