January 19, 2014
Ottawa's fourteenth annual celebration of World Religion Day began with an Aboriginal welcome and blessing, followed by a Baha'i prayer for unity. As in previous years, the event at Ottawa City Hall was a well-attended celebration of diversity, with members of a wide range of the national capital's religious communities represented. Representing the Mayor, Councillor Marianne Wilkinson proclaimed 19 January 2014 as World Religion Day in the City of Ottawa.

One of the organizers, Natalia Rodriguez of the Baha'i community, explained that World Religion Day aims to foster understanding amongst faith groups in the capital and to provide a forum to explore a common theme. This year's theme was "A Sacred Life: Beliefs in Action."

As in previous years, there was a strong artistic component to the event, including musical presentations by the Unitarian Church Chamber Choir, under the direction of Jacob Caines; the Sikh Children's Kirtan Group and the Tamir Choir, led by Cantor Daniel Benlolo.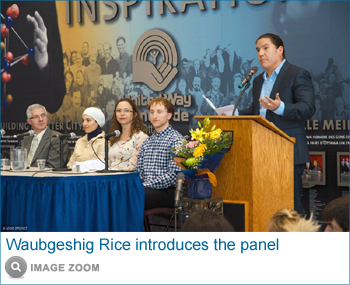 For the first time, this year's gathering featured a panel discussion. CBC journalist Waubgeshig Rice moderated an engaging discussion between Dan Maki, a Christian; Nadia Abu Zahra, a Muslim; Bonnie McCutcheon, a Buddhist and Adam Moscoe, a Jew. Each in turn gave practical day to day examples of how they put their beliefs into action, within the context of their respective belief systems.


Devinder Tehran, whose children sang in the Sikh Children's Kirtan Group, explained that she was glad to participate in the event because it helped her kids "learn more about their world and to help them understand how we all strive to achieve peace in our world through different ways."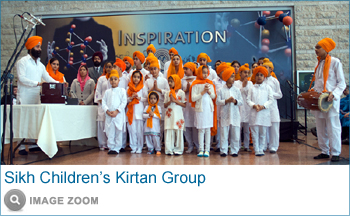 All photography by Louis Brunet. Click here for a gallery of more event photos.