January 2, 2022


New Incentives Make It Easier to be a Good Environmental Steward
"One of the most pressing problems of humanity in the current century is how a growing, rapidly developing, and not yet united global population can, in a just manner, live in harmony with the planet and its finite resources. Certain biological realities present themselves when an organism negatively affects or exceeds the capacity of its ecosystem."
— From the 29 November 2017 letter, the Universal House of Justice Department of the Secretariat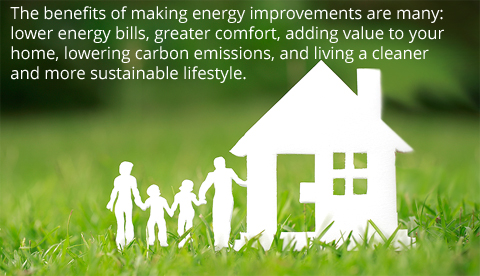 Given their tremendous capacity to mobilize public opinion and their extensive reach in the most remote communities around the world, religious communities and their leaders bear an inescapable and weighty role in the climate change arena…

[1]



Would you like to live in a more comfortable and climate-friendly home? The good news is that funding to help make it possible is here! In this article, we look at two new government programs that are enabling Ottawa residents to upgrade their homes and reduce carbon emissions.

The first program provides a rebate of up to $5,600 from the federal government for a home energy evaluation and improvements. It's called the Canada Greener Homes Grant, and its funding can be used to add insulation, seal air leaks, upgrade windows and doors; install an energy efficient heat pump heating and cooling system, a smart thermostat, and solar panels. The Greener Homes Grant provides up to $600 to pay for energy evaluations and up to $5,000 towards the improvements themselves.
The second program provides zero interest financing for all the above home energy improvements and more, including electric vehicle charger installation. Called Better Homes Ottawa, this is no ordinary loan program. Not only is the 0% interest rate an attractive incentive, but this City of Ottawa financing is paid back by adding it to the home's tax bill over 20 years, so if you sell the home, the loan can stay with the home. This program provides upfront funds for you to pay for improvements and save money over time.

To access the funding of both programs, you need to schedule a home energy evaluation with a Natural Resources Canada (NR Can) registered energy advisor. A list of service organizations who have energy advisors on staff in Ottawa is available on the NRCan website.

Your energy advisor will consult with you on your goals and create a comprehensive home energy evaluation report that can help you decide what improvements need to be done and which ones are eligible for funding. Once the improvements are completed, the advisor does a post-improvement evaluation.

The benefits of making energy improvements are many: lower energy bills, greater comfort, adding value to your home, lowering carbon emissions, and living a cleaner and more sustainable lifestyle. By making home energy improvements, you can help Canada meet its 2030 climate change commitments and contribute to its goal of achieving net-zero greenhouse gas emissions by 2050.

For additional information on these incentive programs or on energy upgrades, please contact the Ottawa Cluster Environment Group at ottawaclusterenvironment@gmail.com.



[1] Seizing the Opportunity: Redefining the challenge of climate change", Bahá'í International Community, 1 December 2008; Poznan, Poland COP 14.