January 20, 2017
Canadian Baha'i representative participates in UN forum addressing anti-muslim discrimination
- New York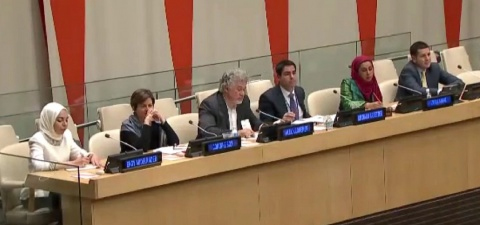 Director of Government Relations for the Baha'i Community of Canada, Corinne Box, a resident of Ottawa, participated in a recent High-Level Forum on Combatting Anti-Muslim Discrimination and Hate that was hosted at the UN Headquarters in New York. She was invited to participate by the Government of Canada.

The event, which brought together people of many faiths and backgrounds, representatives from several nations and international bodies, and individuals working in a variety of sectors, saw a unified response emphasizing the need to focus on our common humanity.

A video message from the new Secretary General of the UN, António Guterres, framed the discussion of anti-Muslim discrimination in the contexts of both this period in history where tensions are rising around the globe, and of the many forms of discrimination that plague and hinder us. In his remarks, he noted that, "discrimination diminishes us all; it prevents people and societies from achieving their full potential." He further urged those gathered to "draw strength from the values of inclusion, tolerance, and mutual understanding - that are at the heart of all major faiths, and the United Nations charter."

Throughout the day, speakers and panelists made explicit what it means to be inclusive and tolerant and what one might try to do to encourage mutual understanding - in the context of societies plagued by anti-Muslim discrimination and hate. The Baha'i representative, Mrs. Box, a resident of Ottawa, was invited along with Zarqa Nawaz, Director of Little Mosque on the Prairie, to speak in an afternoon panel session. The panel, titled, Positive Narratives to Promote Pluralism and Inclusion, was organized and moderated by Richard Arbeiter, Director General of the Office of Human Rights, Freedom and Inclusion in the Global Affairs Canada Department (the former Department of Foreign Affairs).

In her comments, Mrs. Box noted that it is "important to give more space to the positive influence of religion in society". In that connection, she shared the modest, yet concrete example of the Baha'i Community of Canada's collaboration with other organizations to bring about the

Our Whole Society

conference series, which aims to open the space for voices from a wide range of secular and religious positions to discuss the role of religion in Canadian society.

Echoing the message shared by the Secretary General in his opening remarks, Mrs. Box later affirmed, "we are all part of the same human family," and in a brief exploration of the implications of this conviction, she noted our differences, our profound interdependence, and emphasized the organic relationship that exists between us, whereby "damage to one part will damage the whole".

Participants in the high-level forum left well-informed of the reach, depth, and some of the sources of prejudice against Muslims, as well as some indications of modest steps that have helped to counter harmful narratives. A press release on the event from the Canadian government can be read here.